Discover more from Token Dispatch
Your daily new frontier-tech dispatch on blockchain and artificial intelligence. Handpicked and crafted with love by human bots 🤟
Over 12,000 subscribers
SEC vs Ripple drawing to a close? Both parties want an immediate ruling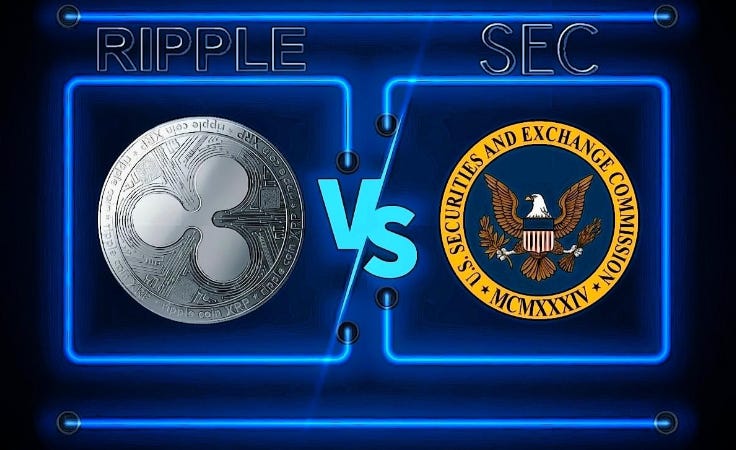 The SEC vs Ripple case heads to a conclusion!
In December 2020, the US Securities and Exchange Commission sued Ripple Labs on allegations that it raised more than $1.3 billion by selling XRP in unregistered securities transactions.
Following the debacle, now Ripple Labs and the SEC have both requested that a federal court judge rule on whether Ripple's XRP sales violated US securities laws.
Both parties want a decision on whether Ripple violated federal securities laws or for the case to be dismissed entirely.
Both the SEC and Ripple have asked District Judge Analisa Torres to rule on the assertions made in the accompanying documents.
Ripple has claimed that the SEC has run out of answers to prove that XRP sales constituted an "investment contract," whereas the SEC has maintained its position.
The SEC claims that various statements by Ripple executives show that Ripple sold XRP and that XRP investors bought the cryptocurrency with the expectation that their holdings would increase in value over time.
According to Ripple, many XRP holders who purchased tokens through exchanges would have had no idea who they were buying them from.
"When asked in discovery, the SEC refused to identify a contractual basis for a single offer and sale of XRP. Thus, because the Securities Act's definition of an 'investment contract' requires an underlying contract, the SEC has no case to take to trial," Ripple wrote in its motion.
Ripple CEO Brad Garlinghouse, in his Tweet, said SEC "want to remake it all in an impermissible effort to expand their jurisdiction."
This lawsuit is very critical for the crypto world. If SEC wins the case, XRP will be classified as a security rather than a currency in the U. S.  A decision, in this case would set an important benchmark in deciding which cryptocurrencies can be classified as securities.
PGA Tour Golf NFTs Coming to Autograph Platform
The PGA Tour is the most illustrious sports organisation to enter the NFT market. It has announced a long-term agreement with NFT startup Autograph, co-founded by NFL legend Tom Brady, to produce legally sanctioned digital golf collectibles.
The new NFTs will showcase some of the most well-known professional golfers in the world as well as memorable moments from the PGA Tour, which was founded in 1968. Additionally, NFT owners can receive benefits from the programme, such as "access to exclusive online, physical, and onsite experiences."
A "season ticket" pass for Tom Brady, which grants entry to a private fan club with benefits including events and access to only those items, was recently released by Autograph through its website.
Fortnite Developer Epic Games' Marketplace Lists First NFT Game
Mythical Games' Blankos Block Party is the first Web3 game powered by NFTs to be launched on the Epic Games marketplace. A little over a year ago, Mythical Games raised $150 million in a Series C investment round at a $1.25 billion valuation.
The digital vinyl toys known as Blankos can be purchased, improved, and traded inside the game. Third Kind Games and Mythical Games collaborated on the game's development.The Epic Games Store has adopted a different strategy for Web3 gaming, claiming to have more than 194 million users overall by the end of 2021.
Since its release, the game has enlisted a number of corporate and artist partners for limited-edition releases, including Deadmau5, Burberry, and Atari.
"Epic Games Store will welcome games that make use of blockchain tech provided they follow the relevant laws, disclose their terms, and are age-rated by an appropriate group,"