Discover more from Token Dispatch
Your daily new frontier-tech dispatch on blockchain and artificial intelligence. Handpicked and crafted with love by human bots 🤟
Over 12,000 subscribers
Shopify will let merchants token-gate their websites with NFTs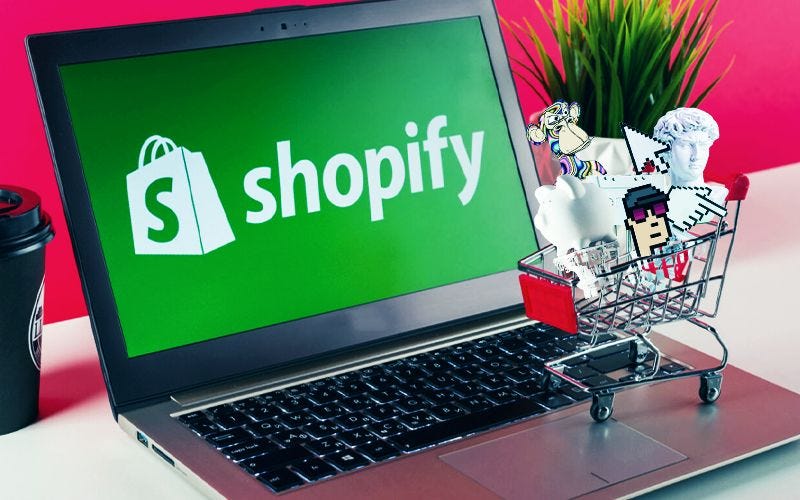 As e-commerce consumption increases globally, Shopify is poised to transform how people shop in the post-Covid era. The leading e-commerce platform, which enables websites to add storefronts and accept payments, is now introducing a number of game-changing tools with collaborations with Apple, Google, and Twitter to its core offering.
Customers interested in launching social commerce, local Google shopping offers, cryptocurrency, B2B selling, and other initiatives can choose from more than 100 new features.
The e-commerce giant has introduced NFT-gated stores as a new feature to allow users to use NFTs to access exclusive benefits, merchandise, and real-world experiences with merchants.
Shopify added support for NFTs last year, enabling store owners to sell the digital collectibles without relying on an external marketplace. Brands can mint and sell NFTs on Shopify to customers using the Ethereum, Polygon, Solana, or Flow.
Brands will be able to reward devoted customers with access to personalized experiences through token-gated commerce, which will also increase the utility of their NFTs. Additionally, it will create means for NFTs from one store, merchant, or brand to be used in a Shopify-powered store.
What is token-gating?
Token gating is a common tool used by NFT projects to create value for their community. The method restricts access and provides holders of a particular token or collection of tokens with exclusive content, events, rights, or membership. By aligning incentives and turning services and products into assets that can be owned and exchanged, it offers many advantages for both creators and consumers.

It's just like buying tickets for a concert. You must obtain a specific NFT or a predetermined number of digital tokens to unlock your access. "Holders only" Discord channels are one of the most used applications of token gating.
Token-gated stores on Shopify can launch tokens (NFTs) in the form of limited-edition merchandise, experiences, and airdrops. These tokens enable exclusivity because they are only accessible to fans of token-gated brands. Collaboration between token-gated brands is another approach that lets customers access the products of the other brand for a "big release or special drop."
"Token holders connect a crypto wallet to unlock exclusive shopping experiences, from early access to drops and limited collections to one-of-a-kind experiences and other surprises," according to a video posted by the brand in Twitter.
Shopify has also introduced a tool that enables customers and merchants to connect through their crypto wallets in order to offer token-gated stores and a marketplace.
Shopify disclosed that it has partnered with the Adam Bomb Squad, Doodles, World of Women, Invisible Friends, Superplastic, Stapleverse, and Cool Cats NFT collections to create token-gated storefronts.
That's not all! Shopify is introducing "IRL" token-gating in brick-and-mortar stores in addition to online token-gating, and only eligible NFT holders can purchase select merch at that physical location.
The recent crypto market slump has deeply impacted NFTs as well. However, Alex Danco, head of blockchain at Shopify, says he is excited about the current market because it removes distraction and is good for focusing on actual ways NFTs can be used to help merchants and decreases the interest in pure speculation.
"If anything, it's the opposite, right? The fact that this is very clearly not about 'double your money in the next week or whatever by NFTs.' The fact that it's not that anymore is actually a great sign for real businesses and real brands." says Danco.
NHL to launch NFT marketplace with Sweet
Following other leagues like the NBA, NFL, and MLB, Now NHL is coming up with their NFT collection that is focused on hockey.
The NHL, along with its Alumni Association and Players' Association, announced Thursday that it has collaborated with NFT platform Sweet to become the NHL's official digital collectible marketplace, enabling fans to trade and collect NFTs.
The hockey league will make video-based collectibles akin to the National Basketball Association's Top Shot. The 2022–2023 NHL hockey season's never-before-released video moments will be included in the NFT collection, which will also feature notable NHL players, including Wayne Gretzky, Tie Domi, Sidney Crosby, and Mario Lemieux.
Furthermore, the marketplace will have gamified features and will also allow fans to interact with each other. "We're looking at everything," said David Lehanski, the league's executive vice president of business development and innovation.
"We invested a significant amount of time to analyze the marketplace and establish a fan-first strategy and are now thrilled to announce a partnership with a company that will not only provide us with a world-class digital NFT collectibles experience, but also a commitment to develop a comprehensive platform that is completely designed and customized for the NHL and wholly focused on connecting with hockey fans in the most authentic and engaging manner possible."
Meta plans to do NFT testing on Instagram Stories
For the past few months, we have all been curious to see how NFTs will work on Instagram. Now, NFTs are coming to Instagram stories!
In a talk to creators on Wednesday, Meta founder Mark Zuckerberg announced that Meta would start testing the display of non-fungible tokens (NFTs) on Instagram Stories using its augmented reality platform, Spark AR.
Zuckerberg first teased Instagram NFTs in March 2022 before elaborating on them in a Facebook post in May 2022. which included footage from an interview with Tom Bilyeu, the founder and host of a show called "Impact Theory".
In May, Zuckerberg had also mentioned that users enrolled in the test group would be able to post NFTs for no cost by connecting their third-party digital wallets in-app. With credit to both the creator and the owner, the NFTs will have a distinctive "shimmer" around the image.
"We're expanding our test so more creators around the world can display their NFTs on Instagram." CEO Mark Zuckerberg said of the latest news.