Discover more from Token Dispatch
Your daily new frontier-tech dispatch on blockchain and artificial intelligence. Handpicked and crafted with love by human bots 🤟
Over 12,000 subscribers
Solana NFTs are finally live on OpenSea!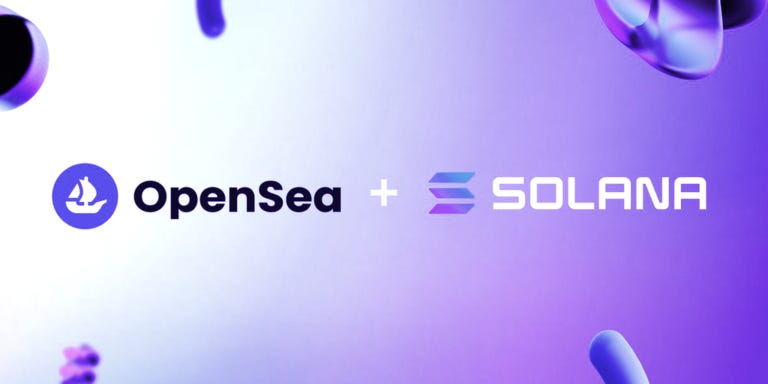 Opensea has integrated Solana, and we saw it coming! after months of rumours that OpenSea would add Solana and NFTs from other non-Ethereum blockchains, Last week, the Leading non-fungible token marketplace shared a video in a post titled "the best-kept secret in web3," revealing NFTs on the leading blockchain Solana are arriving in the platform.
The trailer also highlighted some of the best Solana NFTs, such as Solana Monkey Business, Degenerate Ape Academy, Aurory, Boryoku Dragonz, and Catalina Whale Mixer. and gave a response to the controversial question "wen Solana?" In the first four hours after it was posted on Twitter, the video had 315,000 views.
And the community reacted positively to the news. While Ethereum-based NFTs have dominated the market and are the primary collections on OpenSea, other blockchains like Solana are growing, sparking demands for OpenSea to expand.
Now the venture-backed marketplace for NFTs has actually begun going live with its long-awaited integration of Solana.
Opensea secured $300 million at a $13 billion valuation in January.
To date, the company primarily catered to Ethereum-based NFTs, as well as integration with the Polygon and Klatyn Blockchains. This change allows for a diverse crop of NFTs on the platform, resulting in a considerable expansion of the platform.
OpenSea now lists popular Solana NFT collections such as Solana Monkey Business, DeGods, Degenerate Ape Academy, Aurory, and Shadowy Super Coder. Solana has cheaper transaction costs than Ethereum and is a more energy-efficient blockchain network that can handle more transactions at once.
Unlike other Solana marketplaces, OpenSea allows users to hold listed NFTs in their own wallet. Pointing at the rivals like Magic Eden and FTX NFTs, OpenSea wrote, "On OpenSea, you don't have to choose between liquidity and control—when you list, your NFTs stay in your wallet until they're sold."
Solana is doing fantastic currently! With a market valuation of $1.5 billion on projects, it is the second-largest NFT blockchain behind Ethereum. Solana is the ninth-largest cryptocurrency by market cap, valued at $36.9 billion, trailing Ethereum, which is valued at $411.5 billion.
Solana is nicknamed the "Ethereum Killer" because, in terms of transaction costs and a smaller environmental imprint, it appears to represent a challenge to the Ethereum network.
Anyhow, this integration will provide the Solana NFTs marketplace with significant purchasing power and enable OpenSea to gain a larger market share over competitors such as Magic Eden and LooksRare. Furthermore, we will be able to review trending NFT collections from both Ethereum and Solana in a single location.
Meta plans to create 'Zuck Bucks' for Facebook's Metaverse
Meta Platforms (Facebook's parent company), has developed preliminary plans to launch virtual coins, tokens, and lending services through its apps. According to the Financial Times, Meta Financial Technologies has been investigating the development of a virtual currency for the metaverse, or "Zuck Bucks," as company employees call it.
The FT reports on probable plans for social tokens, reputation tokens, and creator coins, citing business documents and anonymous insiders. However, the publication cautions that the conversations are still in their early stages and "could change or be dropped."
According to the article, efforts to integrate non-fungible tokens (NFTs) into Facebook and Instagram are progressing. According to an internal memo, Instagram will soon enable NFTs, and a mid-May trial launch for posting NFTs on Facebook is planned.
eToro Announces $20 Million Creator Fund for NFTs
eToro, the trading platform, has entered the non-fungible token (NFT) game, announcing that it set aside a $20 million fund to purchase blue-chip NFTs and promote developing businesses in the field on Thursday.
According to a press statement, the fund will be distributed through the company's new "eToro.art" platform, with the goal of bringing the "joy and community" of the NFT business to its 27 million customers.
eToro announced in a statement that it now holds Ethereum NFTs from the Bored Ape Yacht Club (BAYC), Crypto Punks, Doodles, and World of Women.
EToro intends to commit $10 million of the money to new initiatives via a quasi-incubator scheme to which emerging NFT artists are encouraged to apply.
"As a company with one eye constantly on 'what's next,' eToro sees huge potential in the metaverse and a range of new digital assets," ​eToro CEO Yoni Assia said in a statement. "It is only natural for eToro to serve as the bridge to bring new users into NFTs and the metaverse."