Discover more from Token Dispatch
Your daily new frontier-tech dispatch on blockchain and artificial intelligence. Handpicked and crafted with love by human bots 🤟
Over 12,000 subscribers
Sports and NFTs; the favorite combo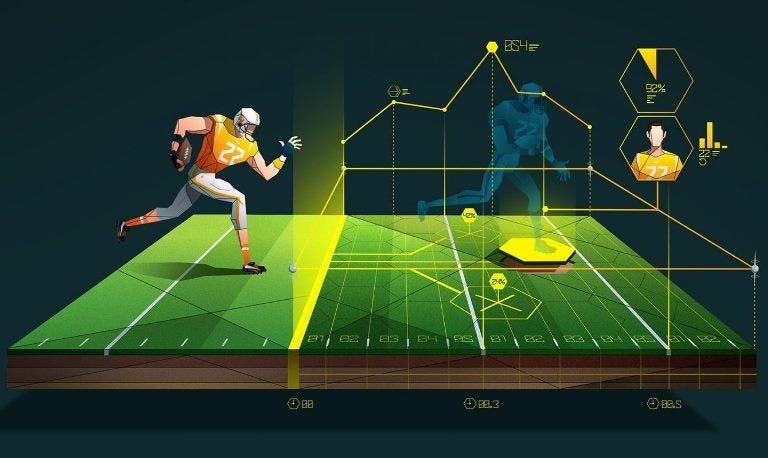 The PwC report calls NFTs the future of digital assets in sports, and we can't agree more.
The virtual expansion of NFTs opens up numerous new alternatives that were usually limited to the physical world. Understandably, many observers are dubious of NFTs' legitimacy, as they are of most aspects of cryptocurrency.
Some are bewildered as to how an asset that exists just on the internet can be so valuable, while others are certain that NFTs will shape and redefine ownership in the digital era. In any case, the world progressively realizes that NFTs are here to stay, and it's not a smart idea to pass up the opportunity. Sports is one of the major industries that has now fully embraced NFTs to improve the audience engagement for supporters of clubs and competitions.
We can't deny that NFTs and sports are becoming a fascinating combo. NFTs are a new revenue stream for the sports business and an incredible opportunity for sports fans to interact with their favourite teams, athletes, and historical moments. People have long wanted to own sports memorabilia, and NFTs are now providing a new digitized means to do so.
Through their digital wallet, fans may now gather highlights from incredible moments, virtual NFT merch, digital tickets to big sporting events, and various other innovative technologies. The possibilities are limitless.
Because this new technology enables athletes to create their own digital assets, the innovation is being driven mostly by athletes themselves.
NFTs and sports appear to be intimately intertwined for the foreseeable future. Indeed, the business is thriving right now.
The value of NFTs will continue to climb as teams, and leagues begin to offer fans more unique experiences. Like how The NBA recently offered two game tickets to fans to create 12 distinct NFTs.
According to Price Waterhouse Coopers' (PwC) Sports Outlook 2022 study for North America, NFTs are one of the ten significant developments in the sports sector. The study offers three key use cases for NFTs, spanning from changing sports technical infrastructure to improving fan interaction and their potential to impact sports' future.
According to PwC, the current major revenue streams for teams and leagues are ticket sales, media rights, and sponsorship. It anticipates that tokenized tickets, NFT media rights, and sponsorship of digital or metaverse events would fuel the industry's expansion, while digital asset sales may also become a "major" revenue stream. However, teams would require a tech stack that combines their new digital sales data with current customer databases, as well as a competent legal team to address regulatory and tax considerations, according to the report.
With the large leagues and competitions becoming more involved with the functioning of NFT to create one-of-a-kind deals, both sectors, together, are expected to bring amazing results. While it is difficult to anticipate how the market will evolve in the coming years, for the time being, the hype surrounding NFTs is positive.
Yuga Labs Buys CryptoPunks and Meebits
CryptoPunks, which debuted in 2017, was a crucial driver for the NFT craze that began in early 2021. The CryptoPunks character NFTs are algorithmically generated, one-of-a-kind "misfits and eccentrics" in 8-bit pixel art.
Yuga Labs, the company behind the massively popular Bored Ape Yacht Club nonfungible token collection, has acquired the intellectual property of CryptoPunks,  and Meebits from Larva Labs.
The financial details were not provided. Yuga currently owns the brands, copyright in the art, and other intellectual property rights for both collections, as well as 423 CryptoPunks and 1,711 Meebits NFTs, as a result of the agreement. This development shows that the NFT craze will not end anytime soon.
What exactly is in store for CryptoPunks now that Yuga Labs will manage the IP is something we'll have to wait and see.  "We're not in a rush to do anything but give people their IP, see what they build, and listen," the company's pseudonymous co-founders said in a statement.
Yuga Labs Starts Asking for Customer ID
Yuga Labs has been entangled in a big controversy on privacy rules in crypto, strongly lobbying for the position that anonymity should be respected at all costs. Now the same Yuga Labs has started requesting customers' personal information for an unspecified new project.
Last month, Buzzfeed News uncovered the identity of Yuga Labs' primary creators, Greg Solano and Wylie Aronow, who was previously known only by the aliases "Gargamel" and "Gordon Goner" last month. Katie Notopoulos, a reporter, discovered the information via publicly available corporate records.
Solano and Aronow defined it as "doxxing" - a phrase that has evolved to denote something like "making your personal identity known".
A month after alleging that its founders were "doxxed," the company behind the Bored Ape Yacht Club is turning the tables on its consumers.
Yuga Labs is requesting visitors to disclose sensitive personal information such as passport numbers and countries of residence – on a mysterious new website in exchange for access to the company's next big endeavour.
Yuga Labs was reportedly valued at over $5 billion based on the success of the Bored Ape Yacht Club, which is currently by far the most successful non-fungible token (NFT) collection in crypto.
Stay informed in just 5 minutes
Get a daily email that makes reading crypto news informative. Have fun keeping up and getting smarter.
The dispatch is sent in time zones at 8:30 am. Choose your preferenceEastern Time Zone (UTC-05:00)USTISTGMTSST
Subscribe
​