Discover more from Token Dispatch
Your daily new frontier-tech dispatch on blockchain and artificial intelligence. Handpicked and crafted with love by human bots 🤟
Over 12,000 subscribers
Sports brands are diving into the metaverse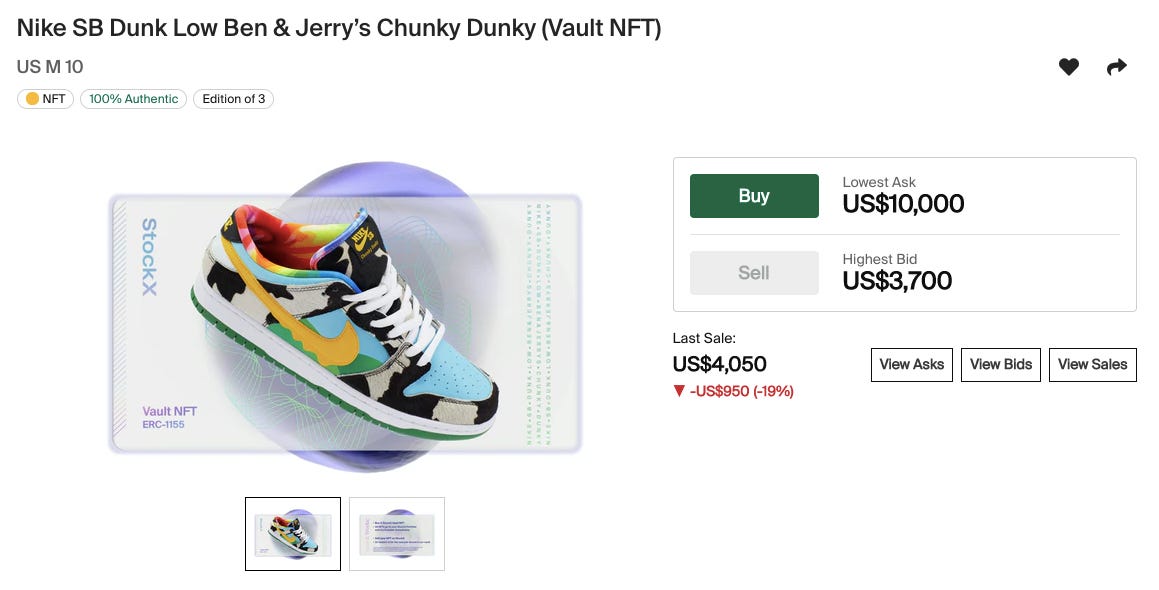 Brands like Nike and Hermes sued legitimate company StockX for Trademark violation on their sneakers.
The espousal of blockchain is grabbing the attention of various industries, and sports brands are not exceptional in purchasing NFTs in the market era. As the demand and value of sports brands rise day by day it is set to play another way of digital ownership of something in a blockchain.
Sports fetiches have always loved to own sports collectables. Thus the NFTs show a new and unique way of digitizing their favorite brand's products. This even gives a chance to engage with their teams, athletes and so forth. The digital epoch has made diligent opportunities to the sports industry that they could make use of it in various ways.
Now, this tangible blockchain purchase is getting another news break of deliberate violation and copying of real products through online as the big-name brands Nike and Hermes litigated actions against legitimate reselling companies.
The lawsuit lodged by the Nike brand accuses StockX of stamping and marketing NFTs and for their deliberate marketing on trademarked materials without any authorization or agreement from the real brand. Nike demands the immediate halt of further sales and promotion and to annihilate the marketing strategy while asking for implicit pecuniary restitution.
Another Lawsuit filed by the big brand Hermes voluntarily accuses Mason Rothschild following its unapproved NFT creation on Hermes famous Birkin handbags. As it created rapid momentum, the NFTs have been removed from the marketplace as Hermes preceded a cease-and-desist letter against the company.
As a recent style or tendency to launch NFTs for brands are in a hike, people accept the new form of digitalized real products and its easy way of availability. The real brand wanted to remind the online companies for fair use that each NFT sold is a digital version of the real and sensual version of their products purchased by worldwide customers.
Let's go to further details:
Nike and Hermès File Lawsuits for Trademark Infringement as Fashion Collides With NFTs.
In the past few months, famous brands like Crocs, Adidas and many fashion brands have been lining up to get their copyrights and trademarks for the digital assets. Brands have been making their way into web3 by registering and getting their trademarks. While NFTs have become a trend that is much talked about, there is ambiguity surrounding its interrelationship with copyrights. It's still unclear how far these brands can refrain others from even using them. However, Nike has filed a lawsuit in federal court in New York against online sneaker reseller StockX, alleging that the Detroit-based company has been selling photographs of Nike footwear as non-fungible tokens (NFTs) without authorisation. StockX has been selling a range of sneaker-themed NFTs as part of its "Vault" collection since January. The NFTs are styled after genuine sneakers, and Nike claims StockX assured customers that the unapproved NFTs will be redeemable for physical goods "in the near future." Nike's filing argues that this is a clear case of copyright violation: "Those unsanctioned products are likely to confuse consumers, create a false association between those products and Nike, and dilute Nike's famous trademarks."
Another high-profile case includes Hermès, the French luxury brand, which filed suit against Mason Rothschild on Wednesday after manufacturing "MetaBirkins," or NFTs of Hermes' renowned Birkin handbags. The MetaBirkin NFTs have been temporarily pulled from the OpenSea marketplace after Hermès issued a cease-and-desist letter to Rothschild.
The large metaverse movements are nothing to scoff at, and Nike's latest legal action is furthermore proof that these firms are serious about the digital realm.

Myanmar people Wants Own Digital Currency After Government in Exile Pushes Tether.
Over the past year, the political situation in the country isn't relatively stable. The military has overthrown the ruling party and proposes creating its digital currency. There have been mass protests, armed resistance and mass killings in Myanmar since the military seized control a year ago.
According to a report from Bloomberg, Myanmar's deputy information minister, Major General Zaw Min Tun, stated the military leadership intends to create its digital currency to "enhance financial activity". He said that the government might create the coin or collaborate with local businesses.
Meanwhile, the country's central bank has already outlawed Bitcoin and other cryptocurrencies, claiming that it is still in the early stages of developing central bank digital currencies (CBDCs), which are electronic counterparts of national currencies. It is not near as advanced as China, which is testing a digital yuan, or the Bahamas, utilising "Sand Dollars" for over a year. Some people doubt that the military is doing this to oppose what the National unity government have proposed.
Exiled government officials from Aung San Suu Kyi's National League for Democracy and other parties and interest groups make up the National Unity Government. In December, it designated USDT, a stablecoin issued by Tether, a Hong Kong-based firm, as its official currency. The stablecoin is pegged to the US dollar and can be used almost anywhere with an internet connection, making it a better option for a government in exile than cash. It has the lowest GDP per capita in Southeast Asia. That's just going to become worse in the not-too-distant future.
Other sanctioned countries have used cryptocurrency to circumvent US sanctions and improve their faltering economies, with mixed results.
Tezos partners with Manchester United in $27 million deal
Manchester United, one of the most celebrated football clubs globally, is poised to announce a multi-year training kit sponsorship with the proof-of-stake blockchain platform, Tezos (XTZ). According to a report by The Athletic, the logo of the self-upgrading proof-of-stake blockchain will feature on the club's training uniform for more than $27 million every year.
With the agreement set to be formalised in the next few days, sources indicate that the club has been filming promotional videos for the collaboration. The Athletic further revealed that the agreement with Tezos may lead to more collaborations in the crypto area for the English club. Tezos has been actively pursuing sponsorships in recent years.
The partnership may also include collaboration in the technical arena, such as a metaverse or other Web3 projects, according to the report.
Manchester City, Wolverhampton Wanderers, and other clubs have also entered the crypto market. Doge- and Shiba Inu-inspired meme coin,  BabyDoge has joined forces with Hoffeinham to become an NFT partner. Hoffenheim revealed in a statement that Baby Doge would become an official partner of the club, working jointly to create club-specific NFTs.
Stay informed in just 5 minutes
Get a daily email that makes reading crypto news informative. Have fun keeping up and getting smarter.
The dispatch is sent in time zones at 8:30 am. Choose your preferenceEastern Time Zone (UTC-05:00)USTISTGMTSST
Subscribe
​