Discover more from Token Dispatch
Your daily new frontier-tech dispatch on blockchain and artificial intelligence. Handpicked and crafted with love by human bots 🤟
Over 12,000 subscribers
Starbucks is now Non Fungible - what makes NFTs irresistible for brands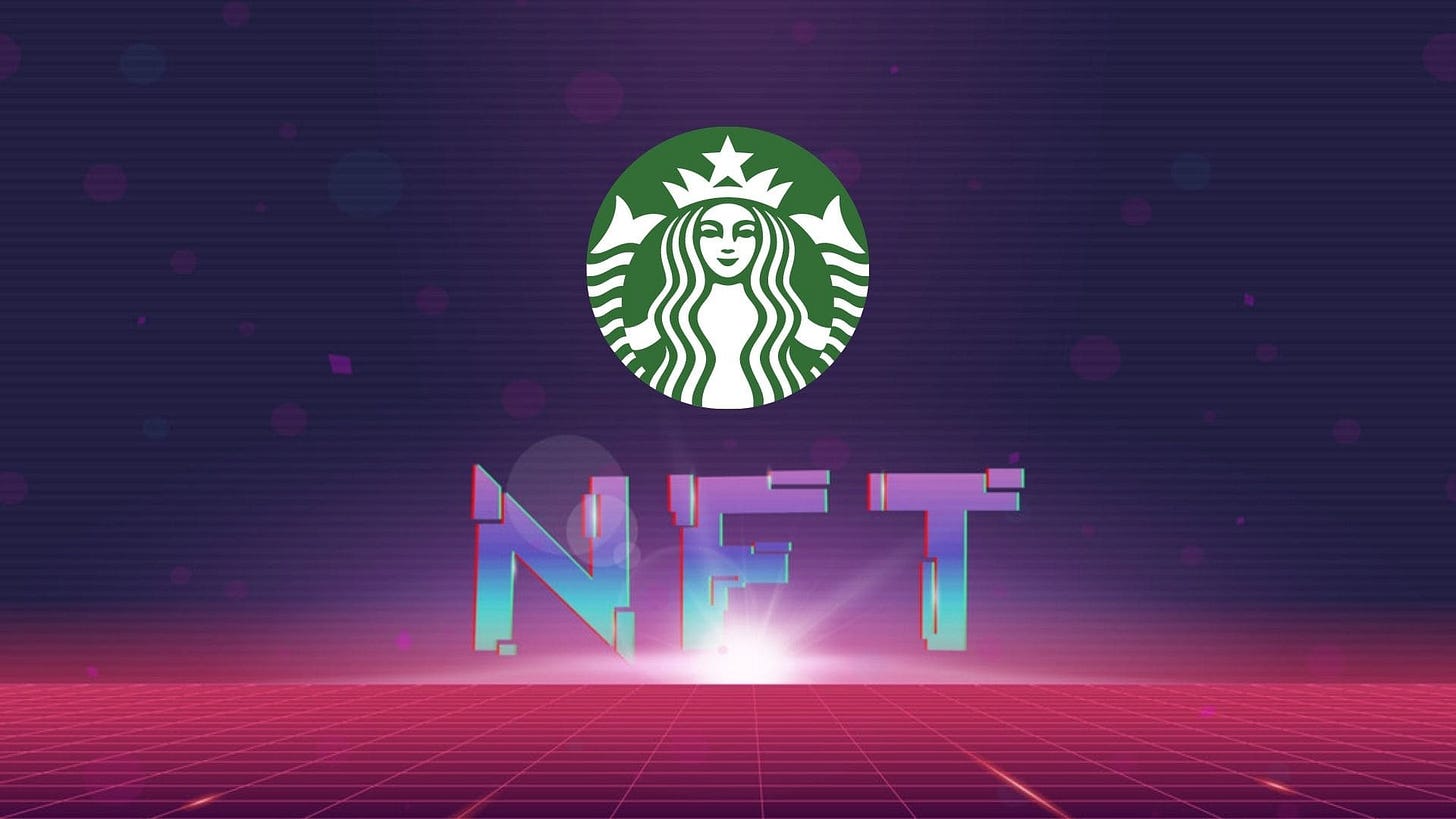 Branding activity is critical for a business to make memorable impressions and make itself the better choice. Digital marketing has made things much better for brands, and it can be accessed easily through platforms such as Facebook or Instagram ads. Just when everyone thought that was the limit of possibilities, the NFT era was born.
The NFT fever has spread like wildfire around the world, influencing the marketing sector as any new trend should, except NFTs aren't just a passing trend; they're here to stay.
NFT is expected to be a promising platform in the future, in addition to being the latest investment tool for art collectors. Yes, it will take a few years for the concept to go mainstream completely, but by now, everyone understands that it isn't just about buying artwork and digital avatars. NFTs will shape the future of digital commerce, marketing, real estate, and more. It's a new way for brands to reach out to customers and grab the younger generation's attention.
NFTs could be the most effective way to generate interest in a brand with a literally unique approach and, most importantly, encourage interaction. It can help brands broadcast their products in the form of digital assets to reach a larger audience or as a complement to physical goods that are already available.
The digital collectibles give brands a novel approach to their content marketing strategy, which is a crucial marketing foundation. It also opens up new storytelling possibilities and creates a more diverse brand experience overall. Similarly, brands have more than enough reasons to include NFTs in their marketing strategy.
Several international brands, including Coca-Cola, Adidas, Nike, Mcdonald's, Pepsi, Louis Vuitton and Lamborghini, among others, have joined the NFT wave and included this cutting edge technology into their product or business marketing strategy.
Starbucks is now following in the footsteps of the other leading brands in jumping on the NFT bandwagon.
The coffee giant announced this week that it would enter the web3 space later this year with the launch of its own NFT collection, where the individual digital collectables will also provide their owners with access to exclusive content experiences and other benefits.
Starbucks Executive Vice President and Chief Marketing Officer Brady Brewer told investors on May 3 during the company's Q2 2022 earnings presentation that the company will explore the Web3 space to add "new concepts such as ownership and community-based membership models."
Starbucks is attempting to bring its "Third Place" concept — a place between home and work — to the digital world. Customers will be able to purchase NFTs from Starbucks and use them to gain exclusive access to Starbucks-related experiences and benefits.
A post on the company blog reads:
We plan to create a series of branded NFT collections, the ownership of which initiates community membership and allows for access to exclusive experiences and perks. The themes of these collections will be born of Starbucks artistic expressions, both heritage and newly created, as well as through world-class collaborations with other innovators and like-minded brands.
In addition to NFTs, the company hinted at a full-fledged "Starbucks Digital Community Web3 platform" that could be linked to in-store mobile payments.
"This community will further strengthen the Starbucks brand, engage our partners, and we expect it to be accretive to our business," Starbucks Chief Marketing Officer Brady Brewer said during the company's earnings call Tuesday.
"making deliberate choices to build the community on environmentally sustainable Web3 platforms," Brewer added.
To excite their modern-day consumers, brands have to incorporate innovative technological advancements into their strategies. Looking at the potential of NFTs, we can see how future marketing would be heavily reliant on it.
Gucci to Begin Accepting Bitcoin in Some Stores
Gucci, the iconic fashion house, will start taking cryptocurrency in select U.S. sites later this month, with plans to expand the service to other North American locations this summer.
According to Vogue Business, in-store payments will be performed using a QR code that customers will get through email and scan with their crypto wallet. The stores will accept Bitcoin, Bitcoin Cash, Ethereum, Litecoin, Dogecoin, and Shiba Inu, among other digital currencies.
Wooster Street in New York, Rodeo Drive in Los Angeles, Miami Design District, Phipps Plaza in Atlanta, and The Shops at Crystals in Las Vegas are the first to take cryptocurrency.
Other high-end businesses, including Off-White, have already begun to take cryptocurrency. Gucci's latest step into Web3 is accepting bitcoin payments in-store. Gucci made its metaverse debut earlier this year when it paid an undisclosed sum for virtual land in the decentralised blockchain game The Sandbox to create a virtual "Gucci Vault" for Gucci-themed NFTs.
The iconic fashion house will start taking cryptocurrency in select U.S. sites later this month, planning to expand the service to other North American locations this summer.
California Governor Signs Executive Order to Spur Crypto Industry in the State
According to a news release, California Governor Gavin Newsom signed an executive order on Wednesday to "establish a clear regulatory and business climate for Web 3 enterprises" in the state.
The state will create a "clear and uniform business environment" for blockchain-related enterprises, including crypto-asset projects and those of related financial technology, under the directive and the California Consumer Financial Protection Law passed in 2020.
California will also gather feedback from stakeholders to cooperate with federal authorities to develop crypto-asset legislation, analyse the application of blockchain technologies for state and public institutions, and build pathways for blockchain-related research and work development initiatives.
"California is a global hub of innovation. We're setting up the state for success with this emerging technology – spurring responsible innovation, protecting consumers and leveraging this technology for the public good," said Newsom. "Too often government lags behind technological advancements, so we're getting ahead of the curve on this, laying the foundation to allow for consumers and business to thrive."