Discover more from Token Dispatch
Your daily new frontier-tech dispatch on blockchain and artificial intelligence. Handpicked and crafted with love by human bots 🤟
Over 12,000 subscribers
The Crypto Bowl Aftermath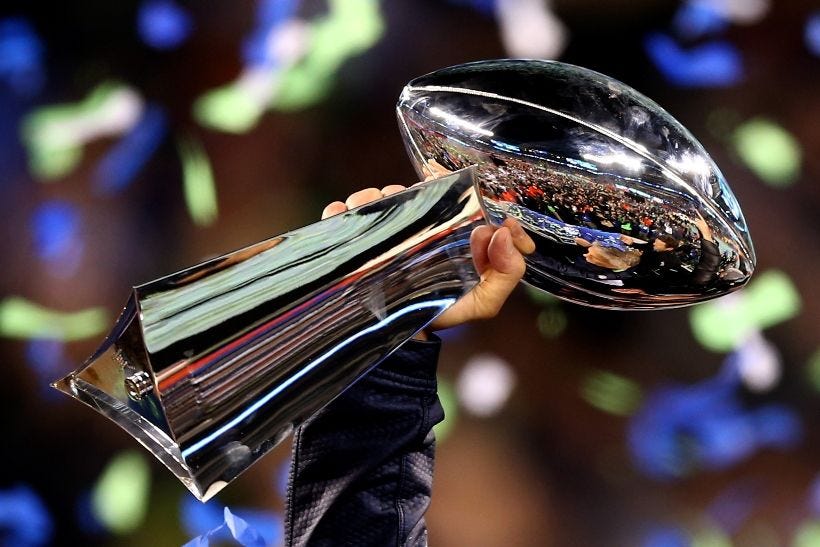 Crypto advertising drive is just getting started As crypto exchanges compete for mainstream customers. There have been SafeMoon billboards in Times Square, bitcoin ads on Hong Kong trams, and even crypto promos hidden inside fortune cookies.
The biggest sports event in the US calendar, Super Bowl, is now known as the 'crypto bowl' as major crypto firms' advertisements debuted in Super Bowl 2022 as a sign of achieving recognition in the real world. The annual National Football League reached a new milestone for the cryptocurrency world, with advertisements for FTX, eToro, Crypto.com, and Coinbase running during the game.
Since January 2020, over $112.9 million has been spent on national crypto ads. The ads featured Larry David, the American comedian and television producer for FTX, and LeBron James with Crypto.com.
The FTX commercial depicts David ignoring life-changing technologies as they are being invented. The commercial attempts to address the scepticism surrounding cryptocurrency. In Crypto.com's ad, LeBron James talks with a version of his younger self. Crypto.com is still using the same tagline as the Damon ads, "Fortune Favors the Brave," but this new ad is less about comparing people who are sceptical of bitcoin weak. With the launch of this advertisement, LeBron joins the growing list of pro athletes who support crypto's mainstream adoption.
The Coinbase ad is the most talked about among the majors. The cryptocurrency company spent 60 seconds — and an estimated $13 million – on an advertisement that featured a QR code jumping from corner to corner of the screen.  In the minimalistic commercial featuring basic- two-dimensional graphic images, There are no humans, no product names, and nothing to hint at what we might be experiencing until the last seconds of the spot.
Let's get into the details:
Coinbase Super Bowl Ad Results in Outage
The crypto exchange Coinbase saw record traffic in its operational history after its Super Bowl ad. The firm spent up to $14 million on a 30-second Super Bowl ad on Sunday, only to have its site go down owing to unusually high user traffic.
Surojit Chatterjee, Chief Product Officer of Coinbase, tweeted at 8:17 p.m. ET that the company had to "throttle traffic for a few minutes".  Chatterjee claimed that the crypto exchange had seen record traffic in its history. When experienced a temporary outage, the team quickly changed the infrastructure and made it ready to handle such an unexpected load.
Coinbase's commercial stood out as the exchange took a chance by displaying a letter 'C' and then a QR code bouncing into the screen in a retro DVD logo style.
Viewers who scanned the QR code were directed to Coinbase's website, where they were asked to sign up for free bitcoin and a chance to win $3 million in prizes.
Coinbase's share price fell 5% in after-hours trading before the US stock markets opened on Monday. As of press time, the crypto exchange stock was trading around $195 per share.
Bahrain Central Bank Completes Cross-Border Transfer Test Using JPMorgan Blockchain
We have read in our previous editions that leading backs are taking bold moves in the blockchain space, starting from consultation services to building products in the space. Now, The Central Bank of Bahrain (CBB) recently revealed that it had successfully tested the movement of funds across borders using JPMorgan's JPM Coin in collaboration with Bank ABC. The test achieves the central bank's goal of providing consumers with secure and efficient settlement options. It's the CBB's latest move as it gets ready to introduce its digital currency.
"We at the Central Bank of Bahrain are extremely pleased to announce the success of this test which aligns with our vision and strategy to continually develop and enrich the capabilities extended to the stakeholders within our financial services sector in the Kingdom using advanced and leading emerging technologies," said CBB governor, Rasheed Mohammed Al Maraj.
He also said that the CBB would try to address and eliminate the inefficiencies and pain points in the traditional cross-border payments sector through its partners.
The CBB, like other of its regional and global counterparts, is planning to launch its central bank digital currency (CBDC), which it claims would provide "secure and efficient settlement options." To know more about CBDC, do check this out.
However, the central bank does not say if it wants to undertake additional testing or when the CBDC will be officially launched in its statement.
Presently only the Chinese and Nigerian central banks have introduced CBDCs, with the rest of the world at various phases of developing digital currencies.
Samsung-backed university to issue NFTs to select graduates.
Web3 and education is undoubtedly an intersection to watch out for. We would be witnessing a lot of universities trying to use blockchain-based services for their effective functioning. Digital certificates backed by NFTs is exciting and already happening in South Korea.
At Sungkyunkwan University's upcoming online graduation ceremony on Wednesday, three students who won in-school competitions will get non-fungible token (NFT) certificates.
NFT certificates, according to Sungkyunkwan University, can be utilised as valid proof of graduation at any moment without the risk of losing the original or fear of counterfeit copies.
Samsung, a South Korean business, became a significant partner and supporter of the university's establishment in 1996, resuming a previous engagement from the 1960s and 1970s.
Similarly, in India, Invact Metaversity, formed by a former Twitter India executive, raised a round of funding from India's business elites to develop a virtual learning platform within the Metaverse. The company is worth $33 million now. It wants to create a virtual university campus, allowing people to enjoy the university experience without leaving their sofas, where students and lecturers wear virtual avatars. Invact currently provides an MBA programme, with further courses to come. Others like Soongsil and Chung-Ang universities in South Korea have recently worked with local blockchain developers to integrate NFT and metaverse technologies into their graduation offerings.
Sungkyunkwan University will use blockchain technology to issue various certificates as part of its digital transition.