Discover more from Token Dispatch
Your daily new frontier-tech dispatch on blockchain and artificial intelligence. Handpicked and crafted with love by human bots 🤟
Over 12,000 subscribers
Telegram to bring crypto wallets and exchange to its users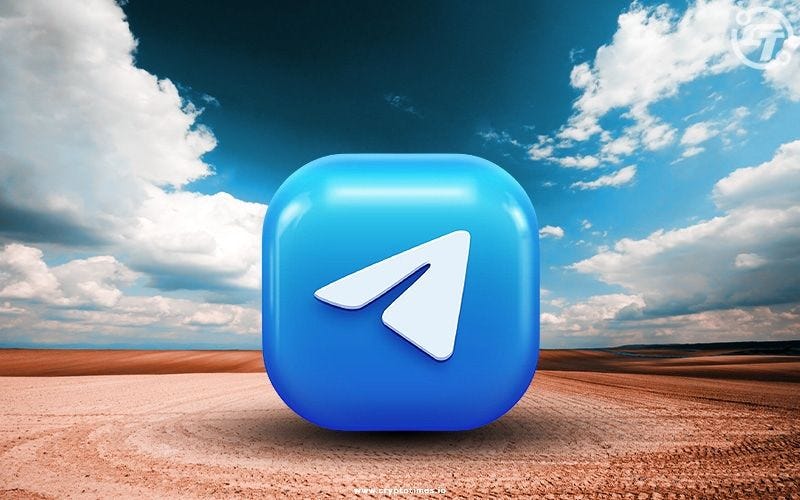 Telegram is one of the favourite messaging apps among the crypto community. Now, the team is planning to launch a decentralized crypto exchange and non-custodial wallets.
In light of what happened with FTX, Telegram wishes to right the wrongs caused by the current excessive centralization in the crypto space.
The CEO, Pavel Durov, made this decision in response to the huge success of Fragment - a decentralized auction platform for unique usernames.
Fragment, which is built on the Telegram Open Network (TON), has sold $50 million in usernames in less than a month. And the project will soon go beyond usernames. Let's wait and see how that works out.
Durov believes that technologies like TON are the solution - to give power back to the people.
"blockchain-based projects should go back to their roots – decentralization. Cryptocurrency users should switch to trustless transactions and self-hosted wallets."
Let's talk about TON:
TON was created in 2018 by Durov and his brother Nikolai. Following pressure from the Securities and Exchange Commission, Telegram shut down its cryptocurrency project, the Telegram Open Network, in 2020. (SEC).
A year later, after failing to register the $1.7 billion in sales collected as part of its pre-Initial Coin Offering, the SEC ordered Telegram to halt sales of Gram, the token linked to the TON blockchain.
Even after Telegram abandoned the TON project, the community didn't. A group of developers kept it alive by renaming it The Open Network and rebranding Gram as Toncoin.
Seeing all the efforts and its success, Durov expressed his support for the project last December, noting that "TON is still years ahead of everything else in the blockchain realm" and the TON Foundation managed to raise $1 billion in donations in 2022.
TON, in April, announced a new feature which lets users send crypto payments in Telegram using Toncoins without any transaction fees.
On Wednesday, TON network supporters announced a $126 million "rescue fund" to support crypto projects impacted by FTX's downfall.
The fund has the backing of DWF Labs, Darley Technologies, Hexa Capital, and TONcoin Fund Ecosystem Partners.
Uniswap launches NFT marketplace aggregator
The decentralized exchange Uniswap enabled NFT trading on its platform.
Uniswap users will be able to trade digital collectibles across OpenSea, X2Y2, LooksRare, Sudoswap, Larva Labs, Foundation and NFT20 marketplaces using the platform's brand-new NFT aggregator tool.
"To bring users the first-rate experience they've come to expect with Uniswap, we built the aggregator to deliver better prices, faster indexing, more unassailable smart contracts, and efficient execution." the company said.
The NFT aggregator is powered by the Universal Router smart contract and optimized by UX smart contract Permit2. Apparently,  the Universal Router contract can save you up to 15% on gas fees compared to other NFT aggregators.
In June, Uniswap Labs aquired the NFT aggregation platform Genie intending to expand its products to include both ERC-20 tokens and NFTs. The DEX is now distributing the funds to past Genie users via a $5 million airdrop.
Genie users will receive $300 for completing more than one transaction or $1,000 for holding a Genie: Genesis NFT prior to Uniswap's April snapshot. For the next 12 months, eligible users can claim their airdrop in USDC.
Kraken cuts workforce by 30%
As a bear market shook the crypto industry in 2022, industry players were forced to cut back on staff.
Crypto exchange Kraken, has now joined the list, laying off 30% of its global workforce - around 1,100 people.
According to CEO and co-founder Jesse Powell, due to the fast-growing crypto ecosystem, Kraken had to triple its workforce, and the current pullback reduces the company's team size to where it was a year ago.
"Since the start of this year, macroeconomic and geopolitical factors have weighed on financial markets. This resulted in significantly lower trading volumes and fewer client sign-ups," Kraken said.
According to the exchange, the employee layoffs will aid the company's long-term viability. The company also stated that it would continue to develop world-class products and services in its clients' most valuable areas.
Kraken continued to hire new employees earlier this year, while crypto firms such as Coinbase and BlockFi announced layoffs. Kraken said at the time that it would fill 500 roles by the end of the year. But it looks like that's not the case anymore.