Discover more from Token Dispatch
Your daily new frontier-tech dispatch on blockchain and artificial intelligence. Handpicked and crafted with love by human bots 🤟
Over 12,000 subscribers
The first-ever metaverse fashion week is here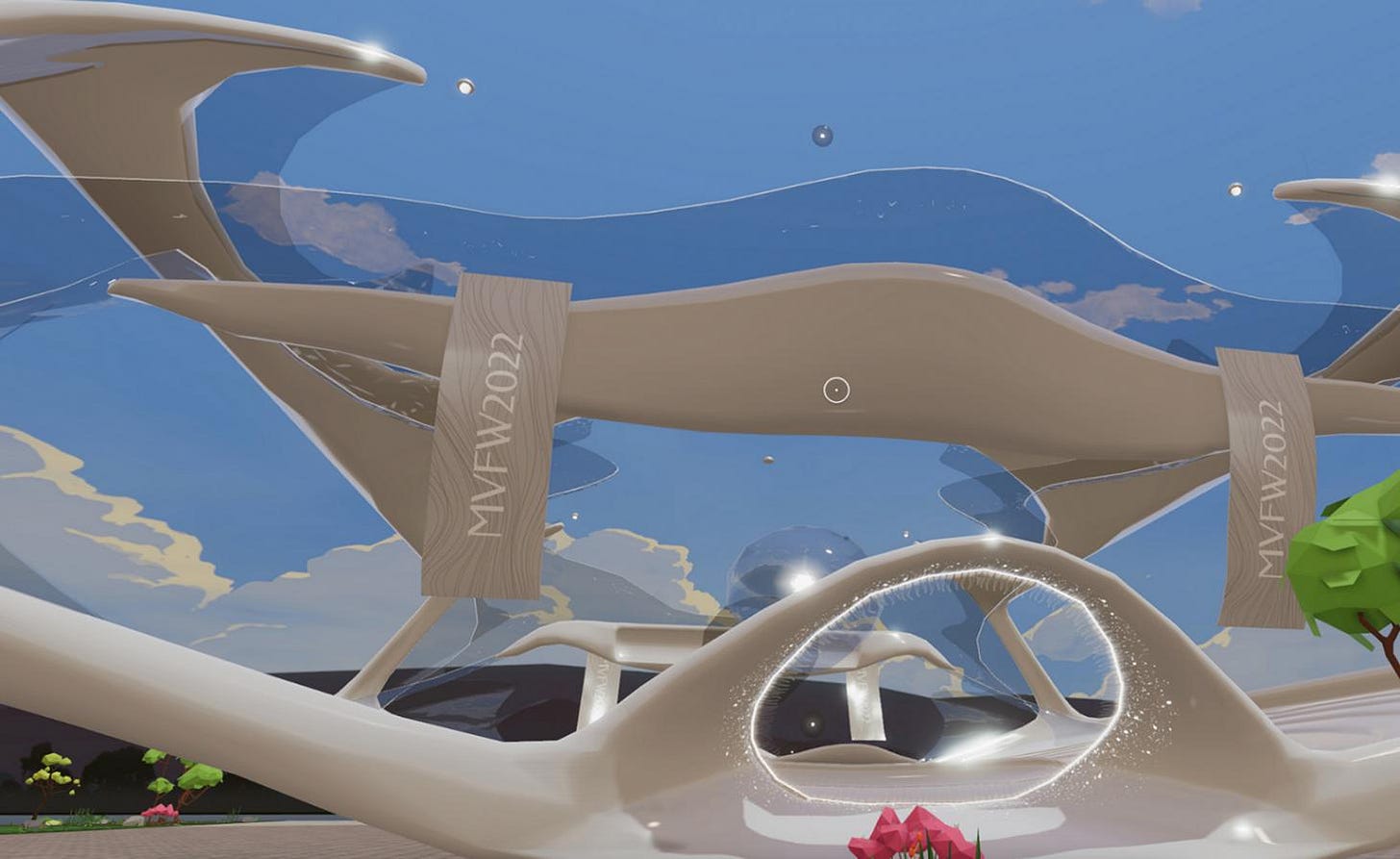 The fashion industry is one of the main early adopters of the Metaverse, with major-league designers such as Gucci, Ralph Lauren, and Balenciaga seizing digital and virtual fashion prospects.
The favorite metaverse decentraland is bringing us the first-ever metaverse fashion week on its platform. The metaverse week, which began on March 24, is jam-packed with runway shows, afterparties, virtual experiences, shopping, panel titles, AI and robots, luxury wearables, you name it!
Some of the biggest names in fashion will be represented, including Tommy Hilfiger, Selfridges, Cavalli, Eli Saab Vogue, Estée Lauder, Philipp Plein, and DKNY.
The event was inaugurated on the 24th evening by Selfridges, a British department store that announced an NFT collaboration with the estate of Victor Vasarely and Paco Rabanne in early 2022. It included new visual pieces as well as digital renditions of young Rabanne's first 12 'Unwearable' outfits from 1966.
Selfridge's Web3 platform delivers crypto fashion to forward-thinking fashionistas; this is thought to be the most expensive attempt to replicate real-life fashion week synergy. Physical products are also available as NFTs from other brands, such as Tommy Hilfiger.
International artists will perform at the afterparty to celebrate Hogan's 'Untraditional' sneakers; Republiqe and Monnier Paris will collaborate on a special store of 'wearable' outfits that will feature Coach, Ester Manas, and Wandler labels; and Braw Haus will display a variety of NFTs.
According to Decentraland Foundation's creative director, Sam Hamilton, "Decentraland is a virtual social world for everyone, anywhere, A space built by and run for by its community. Through MVFW22, we endeavour to broaden the horizon of what 'metaverse' means. We just levelled up the playing field for the world of fashion and decreased the limitations."
Entering Metaverse Fashion Week is pretty simple: Go to the Decentraland website and choose between entering as a guest or logging in with your digital wallet. From there, you'll get a comprehensive calendar of fashion events — simply follow the coordinates to find the events.
Attendees can claim a limited number of 10,000 free Advanced Night Repair NFT wearables, which they can keep for as long as they like. Users can get them via MetaMask or other crypto wallets that support Ethereum and Ethereum tokens.
Around 7 million people have visited Nike's metaverse store.
Nike reports that since its metaverse store, Nikeland, launched five months ago, approximately 7 million individuals worldwide have visited it.
The entertainment industry has reaped the most benefits from this thirst for attention, but Nike's success shows that brands are becoming a draw in their own right.
Since its November launch, Nikeland, the sporting goods company's mini metaverse built-in Roblox, has garnered 6.7 million users from 224 countries. Users may try on virtual objects in the room and play games like dodgeball on Roblox's platform.
Nike's chief executive and president Jack Donahoe explained how the company has been driving consumers to it, saying: "During NBA All-Star Week, LeBron James visited Nikeland on Roblox to inspire its community towards physical movement in play. On the Nikeland court, LeBron coached and engaged with players, and participants were rewarded for physical gameplay with the ability to unlock virtual products."
According to Donahoe, Nike's primary income plan in the metaverse is branded NFTs. Nike was one of the first major brands to promote the idea of virtual goods having the same worth as their physical counterparts, following in the footsteps of Burberry and other luxury brands. It also serves a purpose for the brand extension rather than just being a collectable for collecting.
It expanded on the brand's acquisition of agency RTFKT in December last year, resulting in Nike Virtual Studios's formation.
As a result, and to capitalise on the growth in both real-world and virtual products, the business claimed it increased its ad spend by 20% in the quarter, bringing the total to $854 million.
Ukraine Launches NFT Museum of War on Ethereum and Polygon
Ukraine's Ministry of Digital Transformation announced today the launch of the Meta History Museum of War, which will showcase NFTs solely, as the country remains under Russian bombardment.
As you might expect, the "museum" is a website rather than a physical structure. Its collection, created with the ministry's help, documents recent events in the Russian-Ukraine conflict, including personal perspectives from Ukrainian and international digital artists.
What's different about the project is Everything on the site may be bought, and each image is linked to a non-fungible token created by the Fair NFT platform, which runs on the Ethereum blockchain and the Polygon network. On the other hand, all photographs are hidden until they're sold, so you won't know what you're getting until you've purchased it. "You uncover the truth by buying MetaHistory," the museum says.
Each NFT in the "Warline" collection will cost 0.15 ETH (about $468), with the assets being auctioned in the sequence represented on the timeline. Mykhailo Fedorov, Ukraine's Vice Prime Minister and Minister of Digital Transformation, describe the new platform as a "place to maintain the memory of conflict" and a "celebration of Ukrainian identity and freedom."
"NFTs have shown the world the power of community and the importance of the voice of the many and the one"