Discover more from Token Dispatch
Your daily new frontier-tech dispatch on blockchain and artificial intelligence. Handpicked and crafted with love by human bots 🤟
Over 12,000 subscribers
The musical metaverse is evolving read on to know how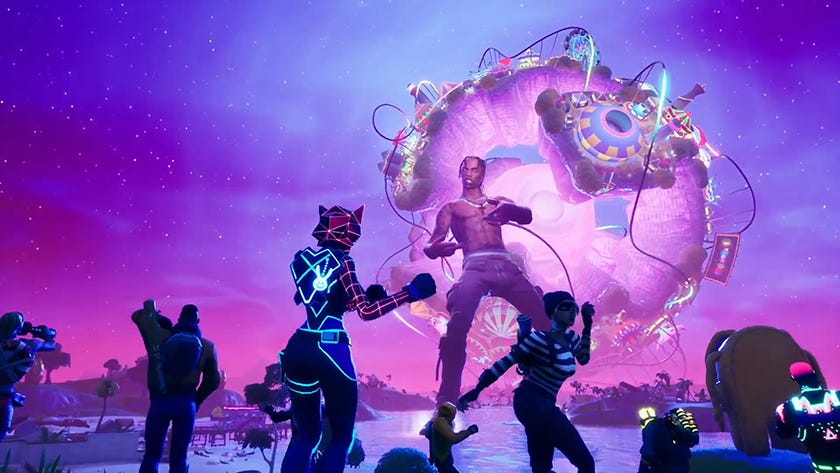 One of the things we miss the most about life before the pandemic is going to concerts. The spread of Covid-19 has made holding an offline concert practically unfeasible. As a result, online entertainment has progressively gained popularity among the general public. Virtual concerts are currently causing a revolution in the music industry. A number of pop singers, from Travis Scott to Ariana Grande, are making the new brainchild of the industry a hit.
Physical constraints no longer confine virtual humans in the Metaverse. The virtual concert brings a live show to you in the comfort of your own home. Concerts in the Metaverse integrate Virtual Reality, NFTs, and blockchain-based decentralized worlds to create an experience that is just as entertaining and powerful as traditional ones. Even if they are viewing separately, each audience member is connected to the shared virtual world in the Metaverse.
In the computer game Fortnite, the DJ Marshmello concert in 2019 was one of the first virtual music events. The concert was streamed live to about 11 million people.
Travis Scott stepped into the virtual concert arena attracting 12.3 million live viewers. Scott's avatar is the size of a skyscraper and interacts directly with the avatars of the audience members.
Ariana Grande's "forenight Rift Tour" was one of the most celebrated ones among the Metaverse. Grande's event took place over the course of several days. Around 78 million Fortnite users attended Grande's concert.
Other popular names like Justin Beiber and The Weeknd has also collaborated with web3 platforms to create magical experiences for their fans.
The next step in the evolution of Music in Metaverse is virtual humans/influencers holding concerts. Just like how it sounds, we will be entering their world and joining them in their native environment.
Kai, a 16-year-old virtual influencer developer, built Splash, a Roblox game that allows users to produce and perform music in front of live audiences. Kai performed to over 100,000 Roblox fans per hour for over 48 hours in seven different Roblox venues. Kizuna AI's 2020 Hello World Concert, which featured both human and virtual guests such as Virtual Kaf and music producer TeddyLoid, blurred the gap between the actual and virtual worlds.
Major music labels, like Warner Music, are making inroads into the Metaverse. Universal Music Group last month launched official metaverse avatars for some of its artists, including Justin Bieber, Shawn Mendes, Rihanna, and Migos.
Music, in any form or any world, has the inherent capacity to captivate an audience. If it achieves its true potential, virtual concerts in Metaverse could play the most vital role in popularizing the Metaverse.
Now, According to business data-tracker Qichacha, Chinese tech conglomerate Tencent has filed for a virtual concerts patent with the Chinese National Intellectual Property Administration (CNIPA). Let's look into the report in detail:
Tencent files for a virtual concerts patent in Metaverse
According to data from business tracker Qichacha, Chinese tech giant Tencent is applying for a virtual concerts patent as conglomerates compete for first-mover advantage in the metaverse industry. The patent application filed by the Shenzhen-based social and gaming behemoth contains a computing approach and interactive instructions for staging a virtual concert.
Tencent sent an internal letter to its staff in October last year regarding the development of a new "F1" studio under its subsidiary TiMi Studios, which will include employees from China, the United States, Canada, and Singapore, according to sources.
On December 31 last year, Tencent held China's first-ever virtual concert in the Metaverse, a New Years'' celebration called TMELAND, which saw over 1.1 million fans join in over the duration of the festival. Tencent has also acquired Los Angeles-based animated concert company Wave, which uses motion-capture technology to create realistic virtual concerts.
CNIPA (Chinese National Intellectual Property Administration) stated it received at least 16,000 trademark applications, including the term " Metaverse."
IMA Financial Plans to Start Selling NFT Insurance in Decentraland
Banks first appeared in the metaverse, and now it's insurance firms' turn.
IMA Financial Group, a prominent insurance broker and wealth management organisation, based in the United States, established a research and development centre in Decentraland. In this Ethereum-based virtual world, Wall Street megabank JPMorgan just set a presence.
"We have this huge asset class worth over $40 billion, for which there are no traditional insurance products," said Jacobs. "Many NFTs I think would be considered some form of art, and today we transact a ton of business in the realm of specie insurance; fine art, collectables, things of that nature."
IMA is one of the largest private and employee-owned brokers in the United States, with projected revenues of over $500 million this year. But, for the time being, he continued, there are no insurance policies aimed at things like NFTs, So we may soon have insurance for NFTs.
According to Jacobs, IMA also wants to study the complete metaverse value chain, including advising clients that are hesitant about topics like decentralised finance(DeFi).The IMA's Web3Labs debuts with interactive content and a batch of NFTs the company will be minting, but the goal is to establish a space where transactions may occur, such as negotiating insurance coverage for an NFT someone is considering buying.
Dolly Parton Creates the 'Dollyverse', Releases NFTs, Book With Novelist James Patterson
Dolly Parton, the country music star, is venturing into the metaverse, and famous author James Patterson is accompanying her.Parton's "Dollyverse" will kick off with the release of a co-branded book, record, NFTs, and a live-streamed musical performance at South by Southwest in Austin, Texas, starting today. Patterson and Parton collaborated on the novel "Run, Rose, Run," and Parton also composed and produced the music album that accompanied it.
FOX Entertainment's Blockchain Creative Labs and blockchain company Eluvio are developing the Dollyverse. The Dollyverse NFTs and live-streamed performance at SXSW will be hosted on Eluvio's Content Fabric proof-of-authority consensus blockchain.
"I'm almost always up for trying something new and different," Parton said in a statement. "I'd say releasing NFTs at my first ever appearance at SXSW, with James Patterson by my side, definitely counts as new and different!"
Parton's Dollyverse makes her the latest addition to the increasing list of musicians creating NFTs and their own metaverse initiatives. DJ Steve Aoki recently stated that he had made more money from NFTs than in a decade of music advances, demonstrating how profitable the Web3 may be.
Stay informed in just 5 minutes
Get a daily email that makes reading crypto news informative. Have fun keeping up and getting smarter.
The dispatch is sent in time zones at 8:30 am. Choose your preferenceEastern Time Zone (UTC-05:00)USTISTGMTSST
Subscribe
​