Discover more from Token Dispatch
Your daily new frontier-tech dispatch on blockchain and artificial intelligence. Handpicked and crafted with love by human bots 🤟
Over 12,000 subscribers
The US is taking a big step towards regulating crypto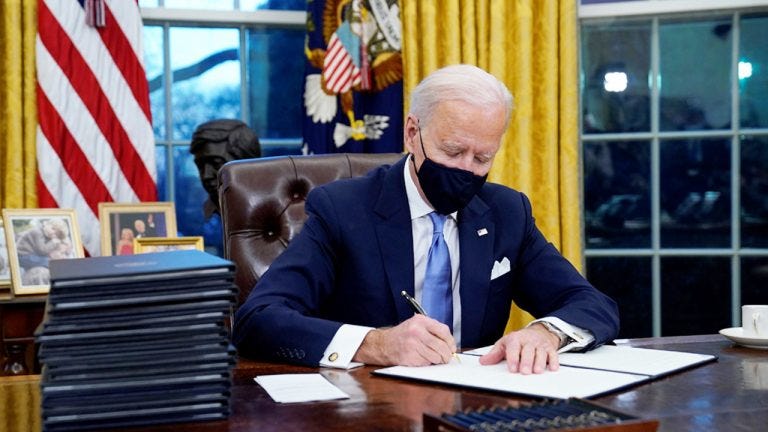 The United States has finally made it clear that it is looking into the crypto industry. But with reasonable regulations.
The White House has released an outline of Biden's executive order, which was signed on Wednesday and directed federal agencies to investigate the risks and benefits of cryptocurrencies, whose rising use and adoption by everyday consumers and major financial institutions have propelled the market to new heights in the last year. It is the first complete regulation in the United States (U.S.) cryptocurrency industry, consistently ranking first in countries mining Bitcoin in recent years.
Amid widespread criticism faced by bitcoin due to its environmental impact and the security concerns that have arisen due to the Russia-Ukraine conflict, the president's decision to acknowledge the sector officially is a bold move. This revelation comes as a comfort to crypto enthusiasts who were probably expecting bad news.
However, before getting into this completely new environment, the US, like every other country that has adopted cryptocurrency, will properly examine the potential hazards and put adequate regulations in place, which will only serve to strengthen the foundation.
The crypto world was expecting the regulations to be out in February but was delayed as Biden and his administration tried to end the Ukraine conflict. Six key priorities are put forward in the framework for regulating digital assets, whose market has grown to roughly $2 trillion. They include investor protection, preventing illegal activity, increasing financial inclusion, and ensuring responsible use and innovation of crypto assets. In official words:
Protect U.S. Consumers, Investors, and Businesses

Protect U.S. and Global Financial Stability and Mitigate Systemic Risk

Mitigate the Illicit Finance and National Security Risks Posed by the Illicit Use of Digital Assets

Promote U.S. Leadership in Technology and Economic Competitiveness to Reinforce U.S. Leadership in the Global Financial System

Promote Equitable Access to Safe and Affordable Financial Services

Support Technological Advances and Ensure Responsible Development and Use of Digital Assets
Aside from the six goals, the president prioritises research and development of a prospective US digital dollar, or a Central Bank Digital Currency(CBDC), if issuing one is considered in the national interest. The government should evaluate the technology infrastructure and capacity requirements for a prospective virtual greenback, and Biden encourages the Federal Reserve to continue its evaluation of a CBDC.
Currently, According to the Atlantic Council, 87 countries are investigating the development of a digital fiat currency. Ukraine, China, and South Korea are among the 14 countries that have begun pilot programmes, while nine have implemented digital versions of their currencies.
Biden has asked the government to place "urgency" on the research and development of the US CBDC.
Bitcoin skyrocketed on Wednesday following the release of the executive order report. In midday trading, bitcoin was up 9.1 per cent to $42,280, on course for its biggest percentage gain since Feb. 28, while ether, the coin tied to the Ethereum blockchain network, was up 6.3 per cent to $2,740, on track for its best day this month as well.
Clearly, this is a defining moment in the cryptocurrency world, and the United States' recognition of digital assets has the potential to alter this rapidly evolving industry, pushing it to reach the mainstream at a fast pace.
Let's have a look at the other interesting developments in the crypto world:
Dubai establishes a virtual asset regulator and announces new crypto law.
The UAE's prime minister and ruler, Sheikh Mohammed bin Rashid Al Maktoum, has proposed new law on virtual assets and created a crypto regulator.
Sheikh Al Maktoum announced on Wednesday that he had issued a law in the Emirate of Dubai providing a legal framework for cryptocurrency, with the goal of protecting investors and "defining much-needed International standards" for industry governance. According to the ruler, a newly constituted Dubai Virtual Asset Regulatory Authority, or VARA would also have enforcement powers in the Emirate's special development and free zones, except for the Dubai International Financial Centre.
The crypto law will force residents of Dubai to register with VARA before engaging in crypto-related activity. Businesses that deal with virtual assets must also have a presence in Dubai. These operations include running a cryptocurrency exchange, transferring cryptocurrencies, and providing other token-related services.
The announcement did not clarify which cryptocurrencies would be covered by the law. Still, it did say that VARA would define and specify the different forms of virtual assets and establish rules and controls. Anyone caught breaking the new law might face fines as well as having their company licence suspended or revoked.
Adobe Taps Polygon to Scale NFT Functionality in Behance Social Platform
Adobe, a renowned software business, today announced collaborating with Polygon to integrate Ethereum scaling into its Behance social media platform.
According to Polygon, the connection will allow creators to show off non-fungible tokens(NFTs) to the rest of the world while reducing their carbon impact and transaction fees.
Adobe bought Behance in December 2012. Behance began integrating tools for digital artists to make NFTs in October, at the same time Polygon began integrating with OpenSea, the leading NFT marketplace. Creators can now mint NFTs directly on the Polygon network to OpenSea, bypassing the Ethereum network.
Allen continued to say that, artists can mint NFTs wherever they choose, whether on their contract or through OpenSea. They also mentioned that creatives could promote their work on Behance by connecting their MetaMask wallets.
"I love Polygon's vision of being an Ethereum scaling solution," Will Allen, Adobe's vice president of product...It can help give creators the best of both worlds: the security of Ethereum as a settlement layer while providing lower gas fees and a negligible carbon footprint."
Behance also wants to release tools to help creatives overcome some of the challenges they've run into in the NFT area, such as Content Credentials, which was introduced in October to boost transparency and help artists verify ownership.