Discover more from Token Dispatch
Your daily new frontier-tech dispatch on blockchain and artificial intelligence. Handpicked and crafted with love by human bots 🤟
Over 12,000 subscribers
Trump plays NFT trumpcard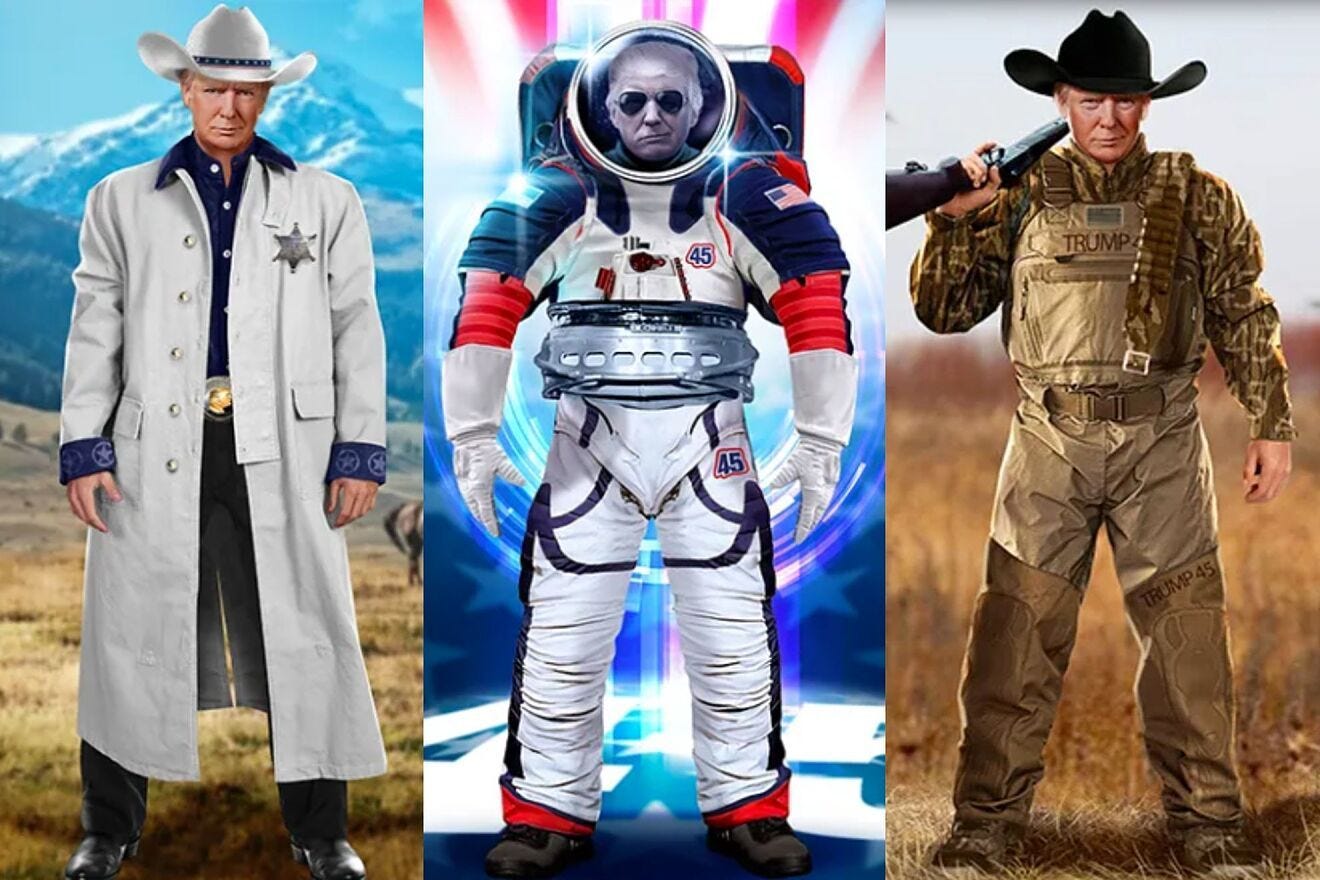 Trump in 2019: "I am not a fan of Bitcoin and other cryptocurrencies, which are not money, and whose value is highly volatile and based on thin air."
Trump in 2022: "Collect all of your favorite Trump Digital Trading Cards, very much like a baseball card, but hopefully much more exciting."
Who would have thought that the same guy who called cryptocurrencies "dangerous" last December would release a 45,000-piece NFT series the very next year? Well, it's very Trump!
The NFT "trading cards" depict Mr Donald Trump as a superhero, cowboy, astronaut, fighter jet pilot, basically, everything he ever wanted to be.
Each costs $99, and Buyers receive experiences with Trump - a private Zoom call, a cocktail hour at Mar-a-Lago, or one hour of golf with two friends.
Anyways, this is hugely positive for Web3 mainstream adoption, as the collection is a hit despite all the debates over Trump's " Major announcement."
All 45,000 of them sold in 12 hours, and people have spent millions trading them on the secondary market.
Crypto Twitter kind of exploded. People had all sorts of reactions—excitement, confusion, and also backlash.
Here are a few:
The Trump organisation hired a contract artist, Clark Mitchell, to create art for the NFTs. Mitchell has previously worked on projects for Star Wars, Disney, Hasbro, and other NFTs, including those for athletes. And it was powered by Polygon - who's shocked? 🥱
Co-Founder of OneCoin Pleads Guilty to Wire Fraud and Money Laundering
Karl Sebastian Greenwood, the co-founder of OneCoin, pled guilty to federal charges of wire fraud and money laundering in connection with the OneCoin scheme, the U.S. Department of Justice stated on Friday.
Prosecutors said that the alleged cryptocurrency project was bogus from the start. Its blockchain hasn't existed at all.
Storytime: Karl Greenwood and Ruja Ignatova founded OneCoin in 2014 and set up a pyramid scheme to advertise it to millions of individuals claiming that OneCoin would be the 'Bitcoin killer'. Members received commissions in exchange for referring friends to buy the coin. The company even generated $4 billion in revenue. Its other co-founder already remains on the FBI's Most Wanted list.
Williams stated that this case and other recent actions are intended to send "a strong message that we are coming after all those who want to exploit the cryptocurrency ecosystem through fraud." no matter how large or experienced.
The Australian Open Expands Web3 activation by collaborating with NounsDAO
The Australian Open has released a second collection of ArtBall NFTs with a list of new Web3 collaborators as part of its re-entry into non-fungible tokens (NFT) and the metaverse in advance of its 2023 tennis tournament. NounsDAO, the online gallery OnCyber, and Gary Vaynerchuck's Vayner Sports Pass are among the new partners.
The renowned competition made a stunning Web3 debut in January. Its NFT collection generated over 1,900 ETH (about $2.3 million) in selling volume. The NFTs consisted of physical plots of the tournament's court to generative tennis balls.
Before the competition starts on January 16, 2023, the next batch of 2,452 Art Balls will mint. To mint the project, it is collaborating with NFT marketplace OpenSea, noting the latter's progressive strategy for guarding creative royalties.