Discover more from Token Dispatch
Your daily new frontier-tech dispatch on blockchain and artificial intelligence. Handpicked and crafted with love by human bots 🤟
Over 12,000 subscribers
NFT marketplace Magic Eden moves to optional royalty model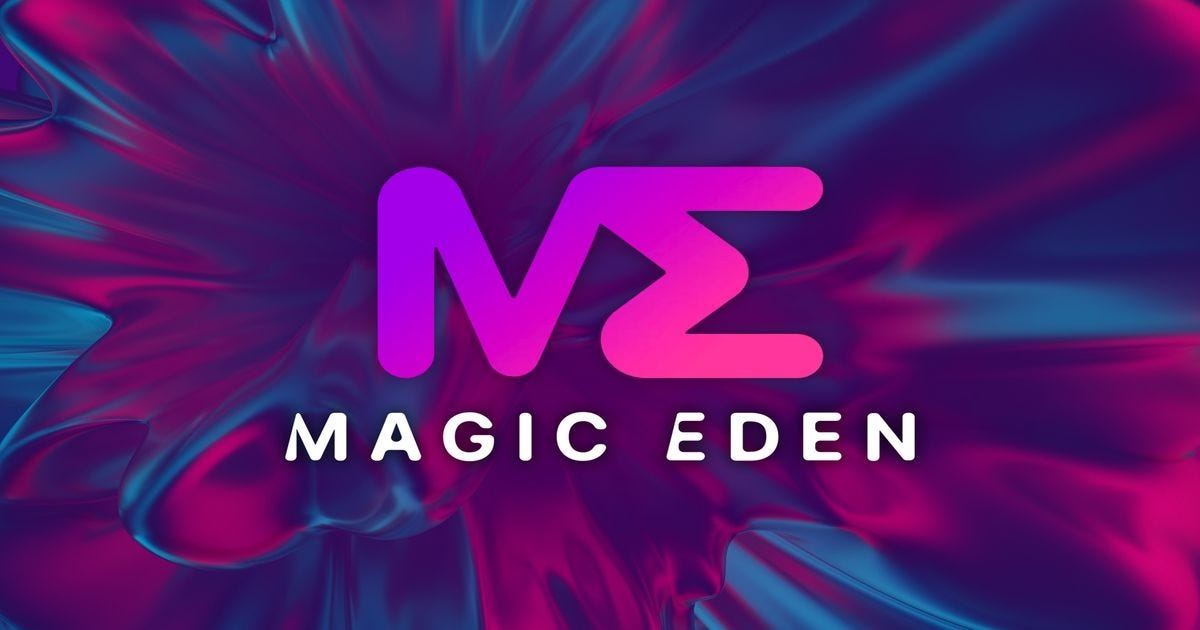 The NFT royalties are the most significant benefit for artists in the creators' economy. It is one of the key characteristic of NFTs. What if it becomes optional? Definitely bad news for creators!
Magic Eden, a Solana-based NFT marketplace, is transitioning to an optional Royalty model, allowing buyers to choose how much to pay in royalties. While all collections honour full royalties by default, buyers can choose whether or not to pay and how much. -  and thereby attract more users.
this discission may not be permenant. Magic Eden will also be waiving its 2% platform fee.
Solana-based NFT marketplaces such as X2Y2, Yawww, and Solanart have recently launched platforms that allow users to trade NFTs without paying royalties. Also, other NFT projects, such as DeGods, introduced the concept of 0% royalties to the market.
This has obviously spurred controversy in the community, with some supporting the new model. In contrast, others criticized it for taking away royalties from creators with no regard for their talent and effort.
"It's also very sad, it's also very tragic. We did not want to be in this position, but the market has already spoken in regards to optional market royalties," a Magic Eden representative said. "It was effectively a race to the bottom."
Beeple is constructing a real-World NFT physical studio
We are still not over "Everydays: The First 5,000 Days," and Beeple, the OG, has now posted a video of the construction of his massive new studio in Charleston, South Carolina.
Yes, the noted NFT artist, who sold a piece of NFT art for a record-breaking $69.3 million, is now building a digital art studio, which will be used to create and share digital artwork to bring more mainstream people into the space.
The space will be an outlet for "the entire digital art/NFT community,"
Beeple also plans to plans to host exhibitions and find unique ways to display NFT artwork for real-world customers.
"I believe by showing people that this artwork can absolutely be shared and appreciated in real life, not just on our tiny screens," Beeple Tweeted, "they will see that this medium is just like any other with the ability to bring beauty, provoke thoughtful discussion, and truly move us."
The video depicts the first half of the construction, and the second half is nearly done. However, the artist did not provide a timetable for opening the studio or hosting events. So, let's wait and watch!
MetaMask adds instant Bank-to-Crypto transfers
Ethereum Wallet wallet Metamask has added bank-to-crypto transfers through the ACH company Sardine. This simply means that users can now easily. turn their fiat into crypto.
MetaMask users can now fund their crypto wallets instantly via bank transfers. No settlement delays, and it works on holidays.
ConsenSys, in a blog post, noted that "Sardine's payment system helps combat fraud."
Two things to note:
With the new feature, Metamask users can transfer their fiat for cryptocurrencies with a maximum limit of $3K per day.

Users can also spend up to $5K per week or $25K per month in order to purchase more than 30 crypto assets.
Sardine is also used by crypto firms such as Tom Brady's Autograph, the crypto exchange FTX, and Moonpay. "The company is a leader in real-time fraud detection and allows users to move money faster and safer through its ACH-to-crypto solution," says the blog post.