Discover more from Token Dispatch
Your daily new frontier-tech dispatch on blockchain and artificial intelligence. Handpicked and crafted with love by human bots 🤟
Over 12,000 subscribers
Stripe to introduce custom "fiat-to-crypto-on-ramp' payments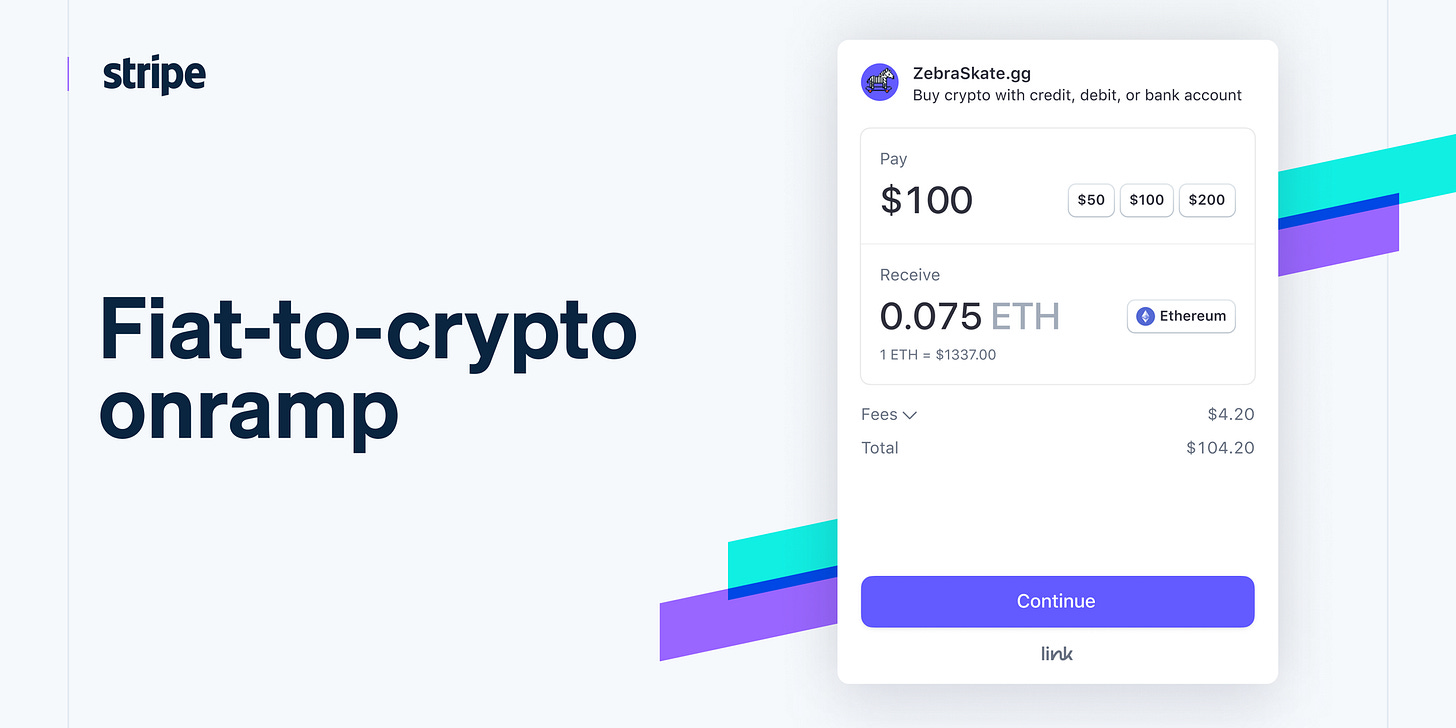 International Payments provider Stripe announced that it had launched a service to make fiat-to-crypto payments easier for businesses in numerous nations.
Stripe's new transactions solution is characterised as a customisable widget that can be easily incorporated in DEX, NFT platforms, wallets, or dapps.
To enable users to buy cryptocurrency in applications rapidly, Stripe's new transactions solution is characterised as a customisable widget that can be easily incorporated in DEX, NFT platforms, wallets, or dapps. It removes some hassles, such as creating a wallet and buying virtual currencies through an outside exchange.
Stripe also highlights that it handles all KYC, payments, fraud, and compliance, consistent with Stripe's focus on dev experience and simplicity. Blockchain-based gaming businesses, for instance, might use the new widget to sign up gamers and enable them to add money to their wallets.
The decentralised music discovery platform Audius announced that it had embraced Stripe's payments solution to allow users to use their credit cards to purchase its native AUDIO coin to tip their favourite artists. Audius is one of the first companies to use Stripe's new on-ramp.
Yuga Labs and Moonpay face lawsuit over celebrities' NFT promotion
A class-action complaint has been filed against Yuga Labs, the company behind the Bored Ape Yacht Club (BAYC) and the cryptocurrency fintech Moonpay, for allegedly utilising celebrities to advertise and market nonfungible tokens (NFTs) falsely.
The lawsuit claims that Yuga Labs and Oseary executives devised a strategy to take advantage of their extensive network of A-list sportsmen, musicians, and celebrity customers to give investors the impression that they were "joining the club" by purchasing Yuga's bestselling NFT line.
In the case, more than 40 parties—including Paris Hilton, Snoop Dog, Jimmy Fallon, Madonna, Serena Williams, Post Malone, and Diplo—are listed as defendants. According to the class-action lawsuit, which was brought on December 8 in the Central District of California, the cryptocurrency companies leveraged their Hollywood connections to promote the digital assets without making the required disclosures.
A spokesperson for Yuga Labs told Cointelegraph that the "claims are opportunistic and parasitic. We strongly believe they are without merit and look forward to proving as much."
Starbucks launches beta of Web3 Odyssey loyalty program to US customers
Brands are taking customer engagement to the next level with Web3 and NFT loyalty programs.
On Thursday, Starbucks announced the beta launch of Starbucks Odyssey, the company's first major attempt to integrate blockchain technology into its existing rewards programme.
This loyalty programme will allow members to earn and purchase NFTs by participating in activities such as playing interactive games or completing fun challenges related to their knowledge of coffee and Starbucks.
The Journeys are designed to promote the Starbucks brand while also teaching customers about coffee and the company's history.
Users will also receive "Odyssey Points," which will grant them access to new benefits and experiences in the future, such as virtual espresso martini-making classes, exclusive events, and real-life experiences such as visits to Starbucks roasteries and coffee farms.
Not just Starbucks, but major brands including GameStop, Budwiser, Pinkberry and the eyeglasses retailer Warby Parker believe in the huge possibilities NFT loyalty programs can offer.
Why? When it comes to these rewards programmes, NFTs offer customers a degree of freedom, trust and security because they have long-term value and are a real wealth-building opportunity.
Because of the popularity of blockchain, changing consumer behaviours, and the need for digital transformation, more brands are switching from traditional customer loyalty membership programmes to the Web3 way.