Discover more from Token Dispatch
Your daily new frontier-tech dispatch on blockchain and artificial intelligence. Handpicked and crafted with love by human bots 🤟
Over 12,000 subscribers
VeeCon 2022 celebrates NFTs, Web3 and pop culture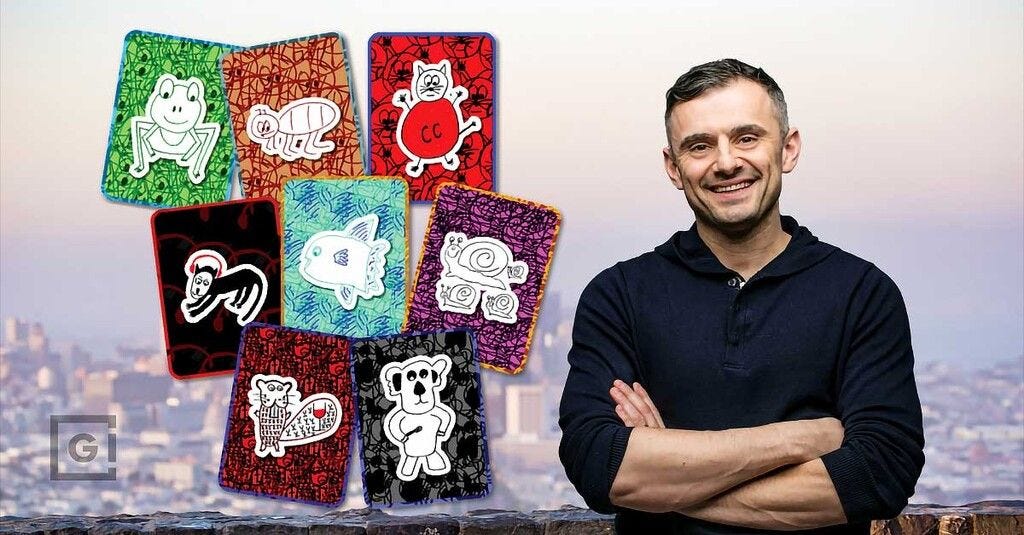 "The biggest return on investment for the event is the relationships you make and encourage people to extend their hand out to meet people." Says Gary vee, the host of VeeCon 2022. The conference was as exciting as it was supposed to be.
Announced in 2021, VeeCon 2022 is an NFT festival created and hosted by Gary Vaynerchuk (aka Gary Vee) and VeeFriends. The event is the first NFT ticketed event and took place at U.S. Bank Stadium in Minneapolis, Minnesota. The first-ever NFT-ticketed convention will discuss NFTs, cryptocurrency, pop culture, business, and many other topics.
The conference is centred on VeeFriends, a collection of non-fungible tokens, or digital art, that Vaynerchuk owns. All VeeFriends NFT holders were granted free admission to the festival, while others gained admission through giveaways, contests, or by purchasing their own NFT ticket to the event.
The event, which was hailed as a "superconference" for Vaynerchuk's most ardent supporters and fans, delivers on the promise of utility for owners of Vaynerchuk's VeeFriends collection.
There were food trucks, Adirondack chairs, giant Jenga, and even a Ferris wheel inside Minneapolis' massive U.S. Bank Stadium. VeeCon provided three days of panels and interviews with huge celebrities and crypto creators in that relaxed setting. By night, well-known musicians such as Wyclef Jean and Miguel entertained fans who remained at the stadium, as did Salem Ilese, the artist behind the recent meme sensation "Crypto Boy."
Names like Eva Longoria, Mila Kunis, Snoop Dogg, Steve Aoki, Pharrell, Spike Lee, Seth Green, Kevin Smith, Liam Payne, Logan Paul, and Deepak Chopra were among the event's biggest draws.
Athletes such as Lisa Leslie, Baron Davis, Chuck Liddell, and Ricky Williams also spoke about the role of web3 in the sports world. Boardroom, Candy Digital, and DraftKings Inc (NASDAQ: DKNG) also discussed how the sports world is changing, in a panel called "The intersection of sports business and technologies."
Hearing from the founders of popular projects such as Cool Cats, Art Blocks, Pixel Vault, Doodles, Deadfellaz, Sup Ducks, World of Women, CyberKongz, RTFKT, and others may have piqued the interest of many attendees.
"Right now, we're using plastic QR codes and email confirmation codes for many things that the blockchain will eat up because it's better technology, and that will just take some time," said Vee. While there is always a learning curve with any new technology, he said. "It's just a matter of time and we should just focus on communicating."
Amid concerns about web3's long-term viability in light of the recent cryptocurrency crash, Vee argued that the conference occurred at the ideal time. In his press conference on Thursday, Vee stated that dismissing NFTs as a trend because of the recent market correction would be a common mistake that has historically occurred with big technologies such as the internet and social media.
The event was more of a playful, entertaining celebration of culture and creators than a business conference.
Portugal's parliament says no to the bitcoin tax.
Portugal's parliament rejected a proposal to tax Bitcoin and other cryptocurrencies. The left-wing parties Bloco de Esquerda and Livre advocated taxing digital assets during a Wednesday evening budget discussion. Still, the notion was rejected, according to online daily ECO's live blog. The proposal requested that the government explore taxing cryptocurrency revenues over €5,000 ($5,340.45).
Portugal has long been regarded as a bitcoin tax haven, with profits from individual cryptocurrency sales tax free since 2018. Furthermore, in the European country, trading digital assets are not considered investment income. As a result, crypto companies and events flock to Lisbon, even though firms that accept cryptocurrency must pay income tax on their earnings.
That, though, maybe coming to an end. Minister of Finance Fernando Medina has indicated that crypto assets in the country will be subject to capital gains taxes shortly. In addition, the Portuguese government may levy a value-added tax (VAT), stamp fees, or property taxes on digital assets shortly.
BNP Paribas joins JPM's blockchain network Onyx for fixed income trading.
BNP Paribas (EPA), a French banking behemoth, has joined JPMorgan's (JPM) blockchain-based fixed income market trading network.
Currently, the Onyx platform only supports short-term borrowing against US Treasuries, allowing institutions to convert liquid assets into collateral on an instantaneous basis, with the transaction managed by a smart contract that specifies features such as loan length and settlement time. It is, however, looking to expand into other sectors, such as collateral mobility and digital debt insurance. Since its inception in 2020, the Onyx network has handled over $300 billion in intraday repo transactions.
Government bonds back three-quarters of repurchase - or "repo" - arrangements, making it one of the most crucial collateral sources for banks to finance their balance sheets.
"We see this as part of our efforts to utilise the technology for the whole trading and operations lifecycle as the market evolves," Joe Bonnaud, global markets chief operating officer for BNP Paribas.
Goldman Sachs (GS) previously used JPMorgan's network for repo trading. JP Morgan has set its sights on becoming a major player in the digital assets space. Alongside the formation of Onyx back in 2020, in 2021 it was the first leading US bank to offer all its clients access to crypto trading accounts, and in February 2022 became the first bank to enter the metaverse, with the launch of a virtual lounge in blockchain-based world Decentraland.