Discover more from Token Dispatch
Your daily new frontier-tech dispatch on blockchain and artificial intelligence. Handpicked and crafted with love by human bots 🤟
Over 12,000 subscribers
Vertu launches world's first Web3 phone, flagship METAVERTU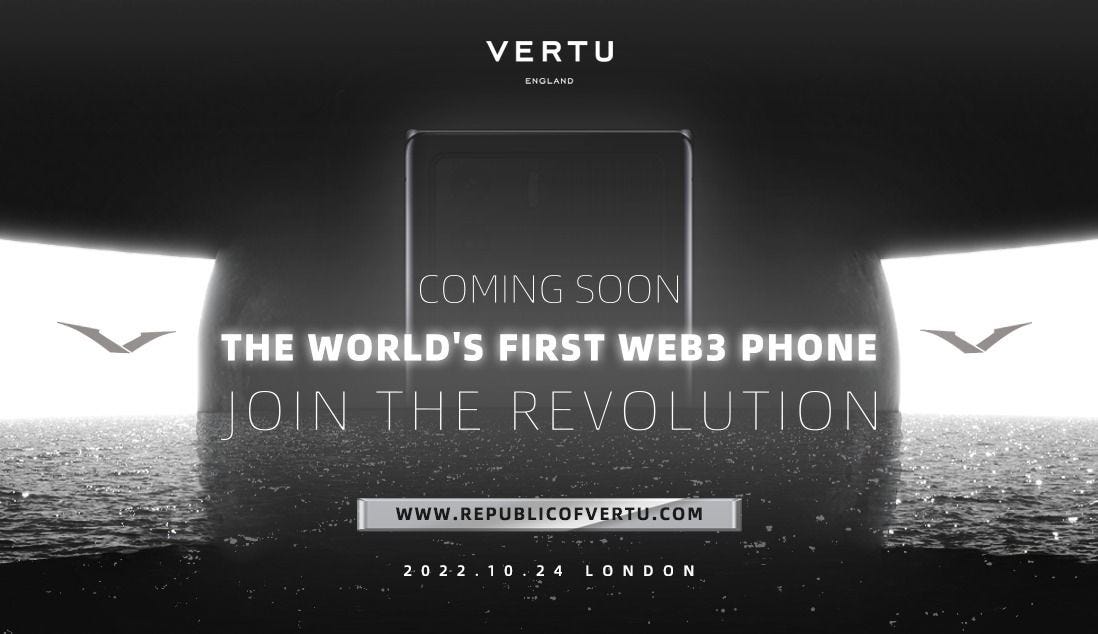 Vertu, the European luxury phone brand, officially launched its new flagship Web3 phone, Metavertu, on Monday (October 24) at an event in London.
Metavertu will be the first Web3 phone to hit the market and also the first Web3 phone to introduce the concept of a CNCOS integrated ecosystem - combining chips, smart terminals, blockchain, operating systems, and high-end services into a single device.
Users can create a wallet in a few clicks, with private keys safeguarded by the phone's trusted execution environment (TEE), and access a suite of decentralized applications (dapps) via a user-friendly, Android-style interface.
Most importantly, Metavertu can turn your photos and videos into NFTs with a single click.
It has two separate operating systems, with one explicitly built for NFTs and blockchain.
Here's some MOAR:
The phone can run its own blockchain node

Metavertu has Vertu's signature sapphire glass screen, powered by a Qualcomm

2400×1080 AMOLED display.

Three-lens camera array

A 4,600mAh battery round off the standard specs list.

A "Value Wallet" that protects you in the Web3 space

A DApp store
The entry-level Metavertu has a carbon fibre finish, 12GB RAM, and 512GB internal storage. Meanwhile, the top-of-the-line model has 18GB RAM and 1TB storage and is wrapped in "Himalaya Alligator leather," 18K gold, and diamonds.
What is the catch? Of course, the price! The first Web3 phone is ultra expensive!
The entry-level phone costs an eye-watering $3,600, but if you want the customization, prices can reach all the way up to $41,000.
The complexity of Web3 is a turn-off for new users, according to Vertu CEO Gary Chan. So they wanted to "reinvent the smartphone to de-complicate Web3."
The Metavertu handset will be sold through the Vertu website, along with the firm's bricks-and-mortar stores, from November 3.
Apple announces tighter guidelines regarding crypto and NFTs in its App store
On Monday, the tech giant updated its App Store Review Guidelines, including apps involving NFTs. In short, apps may list, mint, and transfer data and allow users to view their own NFTs, but they shouldn't enable any additional features. Given that one of the primary uses for NFTs is the ability to release token-gated content, this might discourage users from buying NFTs.
Users of these apps may browse other collections, but no external links, buttons, or calls to action for NFT purchases should be displayed. It mentioned that users could only buy NFTs using Apple's in-app purchasing platform.
Apple now has the authority to ban a cryptocurrency exchange from a particular country's Software Store if it believes the app to be against local laws. Concerns about Apple's anti-competitive practices and its strict control over how apps operate their businesses on the App store have also risen due to these changes.
Reddit NFTs surge, over 3 Million wallets have been created by Reddit users.
Reddit, a popular online forum, has established itself as a significant driver of NFT adoption. Reddit's Collectible Avatars NFTs, produced on the Ethereum scaling network Polygon, have already reached secondary market sales of $1.88 million, a 799% rise from Sunday.
Each NFT is based on Snoo, the Reddit alien mascot, and each avatar features unique visuals created by various artists.
On July 7, Reddit debuted its NFT marketplace powered by Polygon. According to DeFi Llama, the Polygon PoS Chain is the sixth-ranked smart contract network with a total value of $1.2B. More than 4,700 Reddit avatar NFT transactions totalling $1.95 million have been made over the last 24 hours.
However, some NFTs were also airdropped for free to some of the site's most loyal users across more than 100,000 vibrant communities (or subreddits), introducing many individuals to NFTs for the first time.