Discover more from Token Dispatch
Your daily new frontier-tech dispatch on blockchain and artificial intelligence. Handpicked and crafted with love by human bots 🤟
Over 12,000 subscribers
Walmart enters the metaverse, creates a digital world on the Roblox platform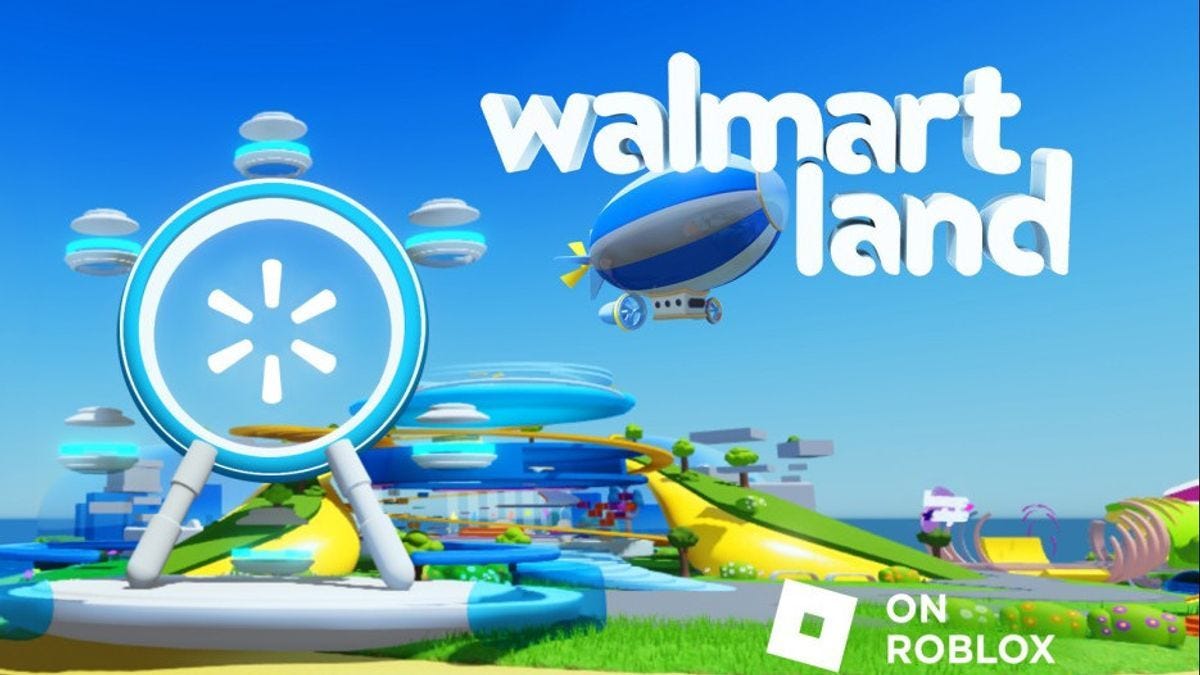 Remember when  Walmart (WMT) filed seven trademarks at the end of December? It was no joke. The retail giant joins forces with gaming platform Roblox to launch two new metaverse experiences.
Walmart created Walmart Land and Walmart's Universe of Play - the first step into online worlds that will ultimately lead the retailer into Web3 metaverse games built around NFTs and other crypto technology like that in Decentraland or The Sandbox.
That's why Walmart Chief Marketing Officer William White described the Roblox worlds as a "testing ground" for future metaverse moves.
Now for the exciting part: what do we get to experience in these two worlds?
Walmart Land: Focuses on immersive experiences! It is an online playground that hosts concerts, Netflix-themed trivia challenges, a D.J. booth and virtual merchandise stores that offer digital apparel from real-world brands.
And, there's going to be a physics-defying Ferris wheel! If that doesn't excite you, nothing will!
Products from Lottie London, Bubble, UOMA by Sharon C and other brands will also feature in the virtual world.
Here's MOAR: In October, they will add a motion-capture concert called Electric Fest, featuring performances from music artists YUNGBLUD, Madison Beer and Kane Brown. FR!
Universe of Play: Contains various toy worlds and games, Bringing together entertainment brands like Jurassic World, Magic Mixies, Razor Scooters and Paw Patrol via digital toys and other activities. You can earn coins and redeem them for virtual goods.
"Roblox is one of the fastest growing and largest platforms in the metaverse, and we know our customers are spending loads of time there," says William White
Walmart is not alone. Many other biggies have launched their own game worlds in Roblox and Web3 metaverse platforms, including Nike, Hyundai, Coca-Cola, Wendy's, Gucci, and Adidas.
Mastercard introduces a personalized NFT card.
Hi- the cryptocurrency and fiat financial app announced the launch of the world's first debit card with customizable NFT avatars powered by Mastercard. A minimum stake of 100,000 Dollars (HI), the platform's native token, or about $4,971 is required to become a platform Gold member.
"Gold" members will be able to add an NFT avatar to the card's face and use it at more than 90 million Mastercard-accepting merchant locations worldwide.
The ability to pay using fiat money, stablecoins, or any other cryptocurrency that Mastercard merchants accept will be available to cardholders. Additional bonuses include incentives for cash back, hotel credits, and rebates on one to twenty digital subscriptions. The cards will initially be offered in the United Kingdom and 25+ European Economic Area (EEA) nations.
"The adaptability to spend fiat, stablecoins or another crypto, joined with appealing monetary and way of life rewards, makes us certain that our card is a unique advantage on the lookout," says Sean Rach, Co-founder of hi.
Robinhood releases beta Web3 wallet using Polygon as the first blockchain.
Robinhood, the cryptocurrency and stock trading website, has launched the self-custody, Web3 wallet, with Polygon (MATIC) as its first supporting blockchain. The initial 10,000 users registered for the testing period in May before the wallet's general release are now permitted access.
The wallet would enable users to trade over 20 cryptocurrencies offered by decentralized exchange (DEX) aggregator 0x without any fees, according to Chief Technology Office Johann Kerbrat. Users can also connect to dapps using the wallet and earn a yield on assets.
Before the beta release of the wallet, Robinhood last week made USDC available to traders. To help onboard new users, the listing was timed to coincide with the wallet's launch, according to Kebrat. This is because it provides a token to trade without worrying about volatility.