Discover more from Token Dispatch
Your daily new frontier-tech dispatch on blockchain and artificial intelligence. Handpicked and crafted with love by human bots 🤟
Over 12,000 subscribers
World Of Women Galaxy NFTs are here to reign; generates a whopping $79M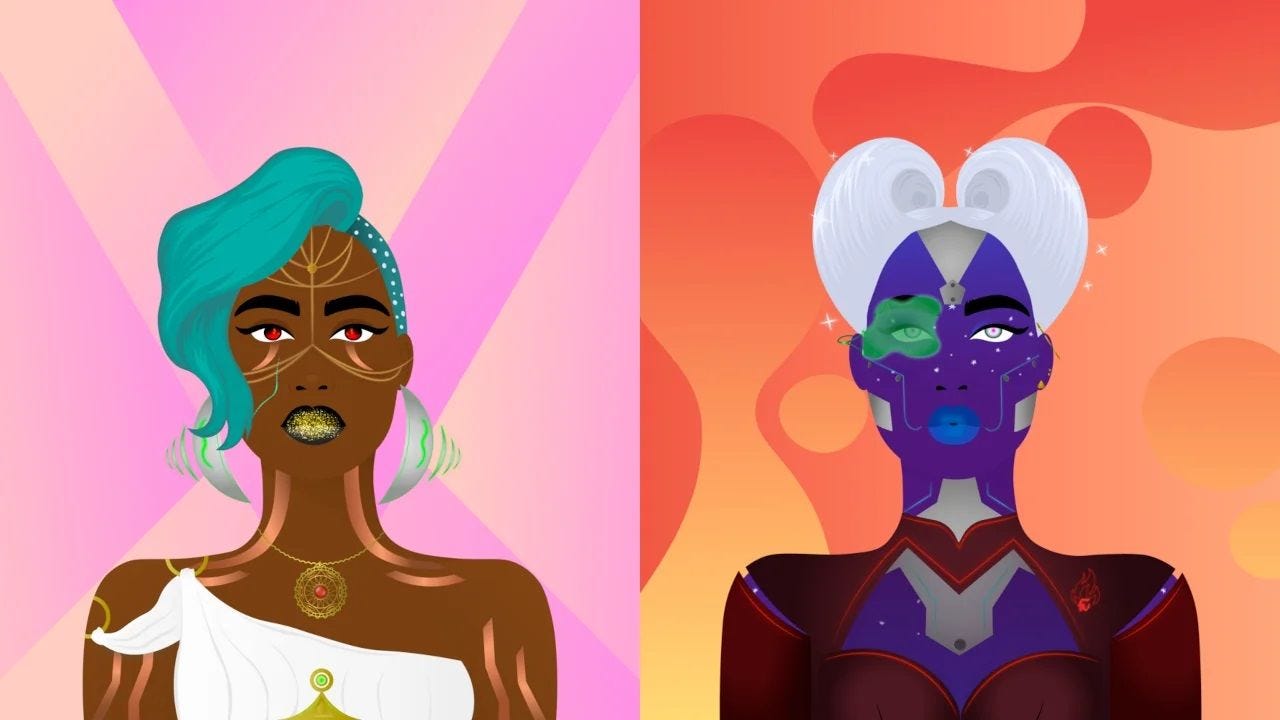 In July 2021, an NFT collection including 10,000 women's artworks was Launched by Yam Karkai with her partner Raphael Malavieille, which was sold out overnight, Making it one of the first to be led by a woman. Along the road, the project has gained in value and attracted certain celebrities as well.
World of Women has become A community that celebrates diversity, inclusion and equal opportunity for all.  From new community members and collectors to budding artists and NFT aficionados, WoW says they enjoy bringing individuals into the NFT space and creating a welcoming experience for everyone.
Internet entrepreneur Gary Vaynerchuk, One Direction fame Liam Payne, notable NFT collector Pransky, and YouTuber Logan Paul are among the NFT collection's many admirers. The latter publicly offered to present Reese Witherspoon with a World of Women NFT that looked like her. WoW signed a talent deal with celebrity manager Guy Oseary in mid-January. Also, Reese Witherspoon's Hello Sunshine production studio has announced to develop TV shows and films based on the NFT project.
The design of World of Women incorporates a wide range of NFT traits. Because the project's goal is to help women all over the world, it places high importance on charitable contributions. Furthermore, it provides an educational hub in its Discord. WoW has donated to nonprofits like She's the First, Too Young to Wed, and Code Green. WoW has teamed together with The Sandbox to exhibit its incredible artwork across the Alpha S2 sessions.
On Saturday, the NFT initiative launched a secondary NFT collection called World of Women Galaxy, with 22,222 profile pictures, which quickly sold out like hotcakes.
World of Women Galaxy generated $79 million in its first 24 hours of availability, according to the project's creators. This includes $34 million in direct sales from the first mint and $45 million in secondary market transactions, according to CryptoSlam.
Since the start of secondary trading on Saturday, the total amount traded has surpassed $60 million. Therefore, World of Women Galaxy has done more trading volume in the last two days than other notable NFT profile picture (PFP) projects such as Azuki, the Bored Ape Yacht Club, and the Mutant Ape Yacht Club have done in the previous week.
Original holders of WoW are entitled to one Galaxy NFT for each World of Women NFT they own. Additional 2,222 Galaxy NFTs were made available at a reduced price to particular individuals and communities seeking to expand access to the NFT market.
The coolest part about The World of Women NFT is their vibrant community, which like to be the supporting cast for one another. That's one of the main reasons for its wide popularity and why we expect more new plans and advancements from World of Women in the coming days.
WWE Signs Deal to Launch NFTs Through Fanatics' Candy Digital
The WWE has formed a contract with sports platform Fanatics to develop and release trading card NFTs through Candy Digital, Fanatics' digital collectibles division.
According to a joint statement, the NFT trading cards will feature some of WWE's biggest stars and reflect some of the company's most talked-about moments.
The WWE is expected to begin producing NFTs later this year. Candy Digital will lead the creative process and technical execution for WWE NFT projects as a "principal partner." The Topps logo will appear on trading cards, which Fanatics also owns.
The WWE is far from the first sports organization to enter the NFT market. Tom Brady, who recently announced his retirement from the NFL, has released various NFT drops for various players through his Autograph programme. NFTs as digital trading cards appear to be gaining traction. Warner Music Group recently announced a partnership with the play-to-earn blockchain card game Splinterlands to include musicians in future games.
Neither firm said which wrestlers would be the first to appear on the NFT trading cards, but those who have been waiting for a Web3 version of John Cena or Hulk Hogan may soon have their wish.
Rio de Janeiro to Allow Real Estate Tax Payments With Crypto as of 2023, says Mayor.
Beginning in 2023, the Brazilian city of Rio de Janeiro will accept cryptocurrency payments for municipal real estate taxes, the city announced on Friday.
Rio de Janeiro will become the first city in Brazil to allow the payment of taxes using cryptocurrencies as a result of this effort. Though the city accepts payments in crypto, it said in its official statement that the state administration will not hold cryptocurrency because payments will be instantly converted to Brazilian reais through a company that has not yet been engaged.
"Our effort here is to make it clear that we have official initiatives that recognize this market...Now those who invest in cryptocurrency and live in the city of Rio will be able to spend this asset here, paying official tax in the city of Rio. And we're going to move on this fast." said Rio de Janeiro Mayor Eduardo Paes said in a statement
Rio has been optimistic about the crypto industry since the beginning of the year. In January, the city Mayor announced that the city intends to invest 1% of its treasury reserves in cryptocurrencies. Rio de Janeiro's secretary of economic development, Chico Bulhes, said that the effort aims to make the city a global crypto hub and lessen citizens' scepticism about cryptocurrencies.