Discover more from Token Dispatch
Your daily new frontier-tech dispatch on blockchain and artificial intelligence. Handpicked and crafted with love by human bots 🤟
Over 12,000 subscribers
You can now mint your Instagram photos as NFTS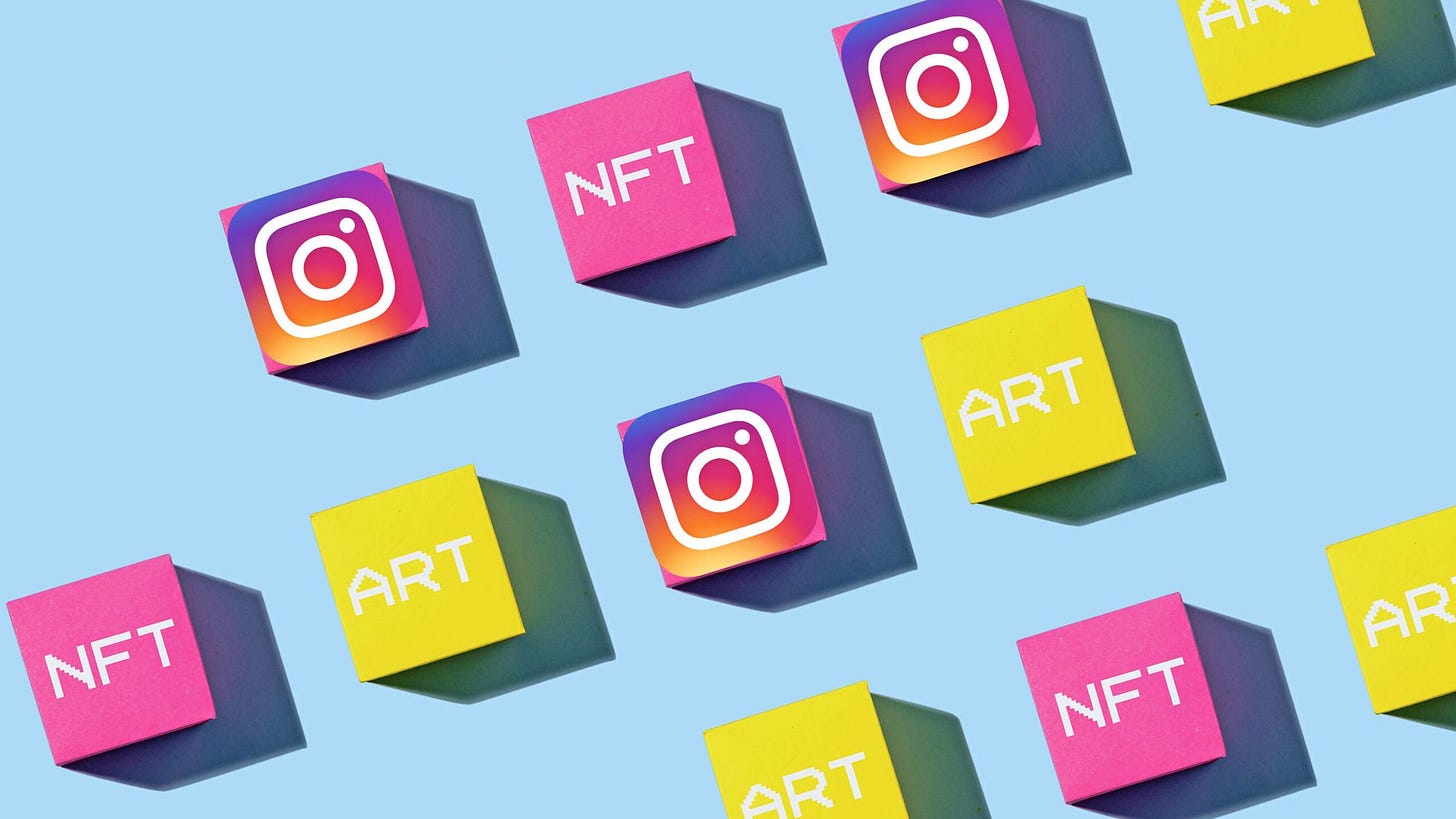 Are we in the future already? because Instagram creators will soon be allowed to mint, buy and sell NFTs, directly from the app!
During its Creator Week 2022 event on Nov 2, Meta announced that the platform would launch an "end-to-end toolkit," allowing creators to make "digital collectibles" (NFTs) and sell them both on and off Instagram.
It's huge! - For creators, NFT enthusiasts and also for Polygon Network, because Meta chose Polygon for minting the NFTs.
Btw, Polygon has been crushing it lately. Just yesterday, we reported that JPMorgan executed the first DeFi transaction on the Network as part of the MAS Project Guardian. It has also been used by Reddit for its highly successful Collectible Avatars NFTs.
Now see how buying and selling NFTs on Instagram is just a few clicks away:
Well, At first, only a "small group" of US-based creators will be eligible to test the new features, and then people from other countries will follow, but provided no timeline for that.
According to a company statement, Meta will first roll out the new NFT features to a select group of artists and content creators before making them available to a wider audience. Creators such as photographer DrifterShoots, visual artist Ilse Valfré, and artist Amber Vittoria are among those selected for early access to the new features.
The new feature will retrieve NFT metadata from OpenSea to display collection names and descriptions on Instagram, and in addition, support for video NFTs will also be added.
"Our strategy for Web3 technologies—including blockchain—is focused on helping creators make a living," says Meta's Head of Commerce and Fintech Stephane Kasriel.
Kasriel also said that NFT transactions would still be subject to "app store fees, reminding us of Apple's controversial 30% commission on NFT sales.
However, he confirmed that Meta will not charge fees to create or sell NFTs until 2024 and that buyers' blockchain gas fees will be covered by Meta "at launch."
Anyway, with Meta's announcement, it's safe to say that mass adoption is much closer than we all thought it was. WAGMI!
F1 Team Hass announces partnership with OpenSea for NFT expansion
Haas F1 Team, the only American-owned Formula 1 World Championship team, has partnered with OpenSea to launch a range of branded NFTs and engage in cross-promotion at racing events. OpenSea's logo will be shown on the Haas F1 Team VF-22 vehicles.
"NFTs have the incredible power to unlock new experiences and give us a canvas to bring people together around the things they love in new ways. We're looking forward to bringing innovative collections to life with the Haas F1 Team, building new experiences for their community of dedicated fans, and providing new ways for everyone to get even closer to the action," said Shiva Rajaraman, VP of Product at OpenSea
Haas's agreement with OpenSea is the most recent instance of sports leagues and racing brands adopting Web3 technology to increase their audience and brand recognition.
India's Web3 industry forms new advocacy body
The Indian Web3 industry has established a new industry organization called the Bharat Web3 Association (BWA) four months after the Blockchain and Crypto Council of India (BACC) was disbanded.
Unlike BACC, the association covers more industries than only cryptocurrency exchanges. Non-Fungible Tokens (NFTs), web3 gaming, infrastructure providers, Virtual Digital Assets (VDAs), and token projects are just a few of the many industries represented by BWA members.
The organization's objectives include:
Raising awareness of Web3.

Encouraging technology and innovation.

Assisting ecosystem partners.

Reaching out to authorities to explain efforts taken to safeguard consumers.
Top cryptocurrency exchanges CoinDCX, CoinSwitch, US-based Coinbase, WazirX and blockchain startups like ZebPay, Hike and Polygon, will be essential members of the association.
"BWA will play a pivotal role in helping India achieve its potential as a global Web3 leader," he added. said Sandeep Nailwal, a co-founder of Polygon Technology.